Rising Prices: In November last year, AAR Health sent a casual letter announcing some new medical insurance services they would be offering such as extending the membership age to 80 years, free basic health checks on appointment, out of country cover extended to 90 days, psychiatric benefit increase, a 24 hour help line, and ATM (forced) robbery compensation.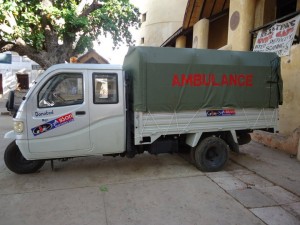 Ambulance in Lamu (picture courtesy of @azthedance)
Their CEO also noted that in the last three years there has been a consistent increase in costs of drugs, medical equipment, hospital charges, and doctor's fees that after an actuarial review they would marginally adjust the premiums
on an age-band basis is.
However the sticker shock came, this month with a renewal notice letter that was 67% more than last year – shocking given that there were no claims. It has not been clear what caused this and various from AAR include, doctors fees have gone up, the enhanced payments will go towards the new services, the company was hit by several claims last year, they have to pay for their own clinics & ambulances unlike other insurers etc.
But a rival CEO on twitter wrote that increases should not be more than 25% a year, and this is borne out by Government and other insurers statistics that indicate changes & inflation in the sector are about 20% per year.
Money going in to healthcare: A previous post touched on the finances and the Nairobi Hospital surplus and how their financial picture is much healthier some of than its patients.
The medical sector has also attracted a some recent investments including:
– A few days prior to the AAR November letter, a Dutch company – Investment Fund for Health in Africa (IFHA) took up a 20% stake in AAR at a cost of Kshs. 750 million (then about $10 million). From media reports on the deal, IFHA will over the next two years increase its stake to 60% and exit by way of an IPO at the Nairobi Stock Exchange in about 5 years
– TBL Mirror Fund has an investment in Meridian Medical Centres
– In January this year, Resolution Health which had 2010 revenue of Kshs 1.12 billion and income of Kshs. 208 million sold a 25% stake in the company to a German private equity fund Africa Development Corporation (ADC), for KES184m. Resolution, which has 42,000 members, is also eying a stock exchange listing.
– In this week's East African is a story of a new Aureos Health Fund that is being set up.