A guest post from the first Russia-Africa forum held from October 2019, in Sochi.
The forum was held in the Olympics stadium in Sochi, Russia. If you are coming from Moscow, it takes a three-hour flight to reach Sochi, a beautiful coastal city located on the Black Sea. It has warm weather during the day and is slightly cool in the evening. This is the city where the Russian Presidents receive other presidents. Mercedes Benz is a well-loved brand in Sochi.
Sochi Stadium was estimated to have cost $50 billion; this was the world's most expensive Olympics. The stadium was home, for two days for the Russians and the Africans who were attending the first-ever Russia – Africa forum and leaders from more than forty African countries were in attendance.
Besides the beautiful scenery of Sochi, the stadium had a few interesting sights, organized for the forum, including a display of army helicopters and AK47 rifles.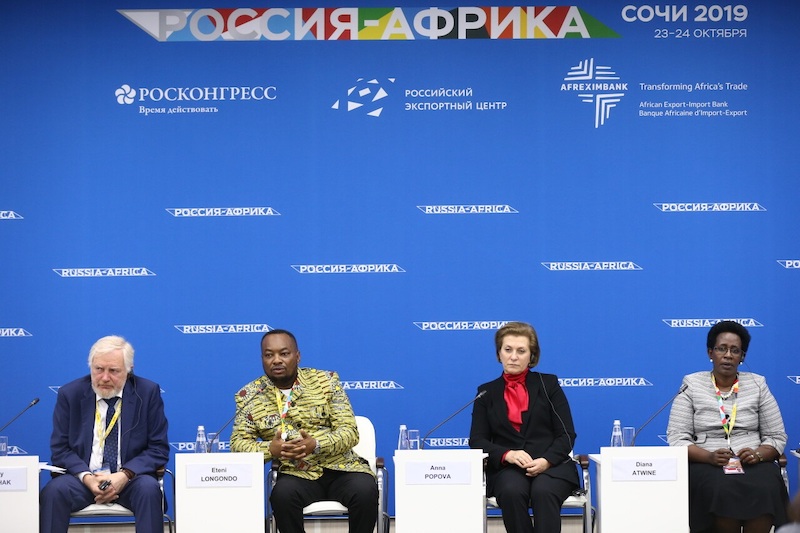 New businesses opportunities and new political dialogues happened.
In 2018, trade between Russia and Africa was valued at $20.4 billion in 2018. Also, there were 15,500 Africans registered in Russian universities, with the Russian government subsidizing half of their education costs through scholarships, according to the Botho Group.
During the forum, Russia's President Vladimir Putin and his administration signed $12.5 billion worth of memorandums with more than 40 African governments for mining, oil and exploitation, nuclear energy, and military cooperation. Among these deals for data storage & software with the Democratic Republic of Congo and to build two 12,000 MW nuclear reactors in Ethiopia.
Nuclear energy received high attention and the State Atomic Energy Corporation, disclosed that it had signed memorandums and agreements with 18 African countries including Ghana, Kenya, Rwanda, Ethiopia and Zambia.
"Rosatom today is an indisputable leader in nuclear technology. We are building 36 power-generating units in 12 countries around the world. During the past 14 years we have commissioned 15 new generating units, and this year we are putting the first floating power plant into operation," Evgeny Pakermanov, President, Rosatom State Atomic Energy Corporation. "Africa is a priority region for us, and we have projects in over 20 countries. We see an incredible demand and incredible interest in nuclear energy from the African countries."
Focusing on military cooperation, Nigeria purchased 12 helicopters at the summit while several other African countries including the Central African Republic, Namibia, Madagascar and Uganda. Egypt, Gabon, and Rwanda declared their interest in military equipment such as tanks, planes, helicopters, rifles, and military advisers, marketing and inviting Russia's investment in their countries.
"I encourage our Russian partners to set their sights on Gabon. Gabon is a very stable country," Jean-Fidele Otandault, Minister of Investment Promotion, Public and Private Partnerships, added that "We have an entire ministry dedicated to private-public partnerships for projects that are valued over 200 billion and I would like to invite Russian investors to join."
Francis Gatare, Chief Executive Officer, Rwanda Mines, Petroleum and Gas Board said "Right now, we are looking for international investors,"
Besides the wonderful talks and agreements, it is important to remember that Africa does have challenges that hinder trade between the two regions. Lack of information has been a key impediment to trade as both regions are not informed about the opportunities and how to capitalize on these gaps for financial benefits. It is crucial to address the lack of information to enable new and deeper forms of cooperation.
What are the stumbling blocks to trade?
Investing in Africa has always been considered risky due to factors such as political instability, unfavourable business climate, rigid tax policies and the infamous corruption. On the other hand, some investors want success in Africa without gaining market insights or visiting these African countries.
"Some of the main challenges that our companies are facing is lack of information, lack of experience, lack of confidence to enter new markets, including African and Middle Eastern markets," Andrey Slepnev, Chief Executive Officer, Russian Export Center.
"Lack of information is one of the major problems in Africa. It is not there, and it is really hard to extract consistently," said Mikhail Orlov, Partner, Head of Tax and Legal, KPMG Russia; Chairman of the Expert Council of the Committee for Budget and Taxes of the State Duma of the Federal Assembly of the Russian Federation.
Lack of information has often led to several wrong assumptions by investors such as that the whole of Nigeria is in conflict due to the famous Boko Haram conflict – yet the regions of trade (Lagos, Abuja, Enugu, etc.) are very far from the conflict zone. There is also the use of non-African business plans across Africa which often fail as all African countries have very different characteristics.
"Africa is still considered to be a very risky place. This needs to change. Africa must be defined as a place of possibility and business. We must discuss and diminish the risks and guarantee comfort for our investors," Monica Juma, Cabinet Secretary, Ministry of Foreign Affairs and International Trade of the Republic of Kenya. "To provide the right environment for our investors we also need Public-Private Partnerships (PPPs) which are very attractive for a country's economic development and from the fiscal point of view. This is our focus for enhancing social, economic and political trade between Kenya and Russia."
For the continent to progress, infrastructure needs to be implemented to drive economic growth. The continent needs to resolve the lack of and poor infrastructure to attain the required goals such as education and health.
"Africa needs $50 billion in sectors such as energy, transport, and natural resources so that our sponsors can strive in business, implementing infrastructure projects," Samaila Zubairu, President, Chief Executive Officer, Africa Finance Corporation (AFC).
Foreign businesses underestimate country specifics in Africa.
"I would like to point out a few common mistakes our businessmen make when they come to work in Africa. Lack of understanding local mentalities leads to the gravest of errors," Galina Sidorova, Professor, Moscow State Linguistic University. "Another important aspect is that our businessmen are preoccupied exclusively with their profit. It would be nice to see them also thinking about the interests of African people."
What solutions are African nations implementing?
Gabon stated its progress in creating favourable investment conditions by diversifying the economy since 2009 to attract foreign investments.
"One of the key sources that allowed us to build an oil refinery was project financing that attracted $4.4 billion for us. Today, we produce petrol that complies with European regulations. How did we get this kind of money? Through a regime that attracts international financial institutions and welcomes them into the country," Ahmed Heikal, Founder, Chairman of the Executive Board, Qalaa Holdings, Egypt.
"In Ghana, it is far easier for the business sector to attract foreign investment than for the state. Why is that? Because the business sector is far more efficient, primarily in human resources and human capital," Frank Adu Jr, Chief Executive Officer, Managing Director, CalBank.
"Stability is extremely important, it is a key aspect of developing investment and attracting the capital," Bob van Dijk, Group Chief Executive Officer, Naspers, South Africa.
Expanding Russian-African cooperation holistically
"We need to work on consolidating and coordinating the efforts on promoting Russian-African cooperation with all of the stakeholders. Expanding cooperation with our African partners not only via bilateral cooperation but using the multilateral institutional opportunities as well, including Russian business programmes," Alexander Shokhin, President, Russian Union of Industrialists and Entrepreneurs (RSPP). "Stimulating the development of multilayer cooperation mechanisms to foster business cooperation by increasing the resource potential of Russian companies encourage involving small and medium-sized enterprises, as well as Russian and African regions via project financing and project groups."
"It is a huge mistake to try to get as much profit as soon as possible and ignore the long-term investments. It is a huge loss. Thirdly, we do not support small and medium-sized businesses in Africa. They cannot exist there without state support. So, let us create a few support centres for business, for instance, North, South, West, and East. It would be extremely efficient in promoting our investments," Irina Abramova, Director, Institute for African Studies of the Russian Academy of Sciences, Corresponding Member, Russian Academy of Sciences.
Africa is attractive for investment and trade
Both Russia and Africa are well endowed with minerals, agriculture, human resources, and other sectors that will benefit if deals are well-structured and trade is enhanced.
"What do we see? Incredible opportunities – there are 55 countries and each one needs to be approached individually. Uralkali, as a business, is ready for that," Dmitry Osipov, CEO Uralkali; Chairman, Russian-Nigerian Business Council.
"A promising area of cooperation involves attracting big Russian investors in industries strategic for many African countries, such as agriculture, mining or processing raw material," Andrey Kostin, President and Chairman of the Management Board, VTB Bank.
"Africa is a large consumer of agricultural produce. Last year, the volume of our exports exceeded $4.6 billion," Sergey Yushin, Head of the Executive Committee, National Meat Association.
"Rating agencies assess countries based on further investment in them, but our actual resources are much higher than the risks we are usually associated with. Our continent can only be perceived as a whole. $1 trillion is expected to be invested in infrastructure parts so that we could cooperate under our free trade agreement," Paulo Gomes, Co-Founder, New African Capital Partners; Chairman, Paulo Gomes and Partners.
Russian companies are successful in Africa
"We have been working in Africa for over 10 years .. we have invested close to USD 2 billion in the African countries," Evgeny Tulubenskiy, Chief Legal Officer, Corporate and Regulatory Affairs, Member of the Board of Directors, Nordgold.
The Institute of Africa of the Russian Academy of Sciences has stated that during the past 10 years Russian investment into Africa grew by 185% and reached USD 17 billion. This shows there is much more work for us.
"Having the large group of Africans was impressive because it demonstrated a deep interest in our desire to keep engaging with the greater global community to identify areas of continued cooperation. It was also interesting that the forum had a strong mix of private and public sector experts thus creating real opportunities for trade and other commerce activity," Isaac Forkuo, CEO, Botho Consulting Group, Kenya. "This event had more action than talk.
There appeared to be a desire to create linkages among businesses, especially SMEs. African governments realize that leveraging the relationship with Russia through country-specific trade. From the Russian side, this forum provided an opportunity to re-engage with Africa also from a trade angle as African countries provide a market for Russian goods and services while also providing a market for diversification of Russian State and private investments."
Let us wait and see how many of the signed memorandums will be implemented between Russia and Africa.