Yesterday Jumia released their Africa e-commerce index 2021 with some interesting trends, a year after Covid-19 impacted lives across the continent.
Sam Chappate CEO Jumia Kenya said that in Africa, e-commerce still has room for growth as currently, it still accounts for just 1% of transactions, and another 300 million people will be accessing the internet in two years. 75% of traffic to Jumia is on mobile, while it is 85% for Kenya.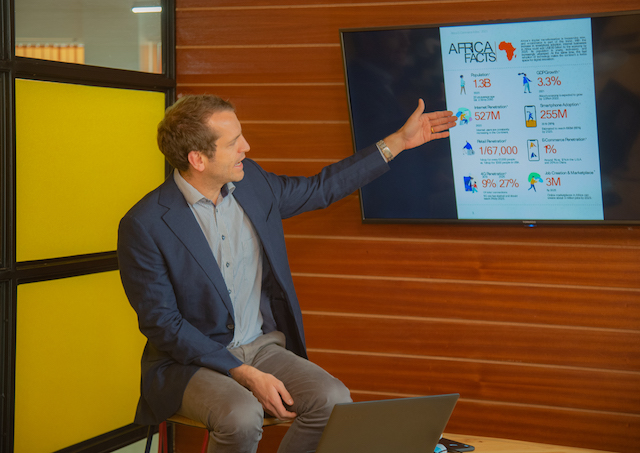 Gross merchandise value has shifted – from 40% of pre-pandemic sales coming from everyday stuff (FMCG, beauty products) to now 60%. Now, a 2kg sugar bag is the top-selling product on Jumia in Kenya. 
NYSE-listed Jumia is in ten countries and Kenya number 2 in searches, behind Nigeria. Top cities in Africa are Lagos, Cairo, Nairobi, Casablanca, Abidjan, Gaza, Abuja and Accra.
 With 11,000 sellers and 1,600 pickup stations, Jumia has the biggest logistics infrastructure in Kenya. Coca-Cola is probably bigger but it's a closed system whereas Jumia has opened their system and logistics infrastructure to third parties/partners (e.g. Premier Foods and Unilever). Small companies can use pickup stations for   FMCG.
Sales of Jumia are 51% primary cities, 27% secondary cities, and 22% rural – so 50% outside Tier-I cities. Most deliveries in Kenya are to Nairobi Mombasa and Kiambu.
Now big in fintech .. 35% of Jumia orders are paid through Jumia pay which has 4 million downloads – they have now opened Jumia pay to third-party partners, starting in Egypt.
Also, Chap Chap GO, an -e-commerce startup that's winding down, uncovered some gems from its year of operations in Mukuru and Langata areas trading a limited basket of products. Its founder Soud Hyder, a digital commerce specialist, shared some urban e-commerce insights on Twitter.
Fastest moving items were wheat flour (Ajab), cooking oil (Salit), cooking fat (Samli), and then sugar – all needed on a daily basis by Mama Chapos (informal roadside cafes).
Ajab Flour was super interesting; it's very popular with Mama Chapos despite being a relatively newer brand, they cited quality and texture for it being the preferred choice, something to do with the elasticity of the chapos and preferred kneading consistency by the cooks.
Samli was a product requested by customers, trialled with a small cohort in Jul-Aug 2020, mostly "Mama Chapo" type of customers.
GIL (manufacturer of AjabFlour) has a lower quality fighter brand called Umi, intent was to help them garner market share but turns out the premium brand is more popular even in the lower tier of the market, customers are willing to pay a bit more for quality.
The market has already validated the "measure and pour model" (weka ya kupima), unhygienic & inconvenient but the market has found equilibrium, works for both retailers and customers, an additional 3% margin is not bad at all for folks in informal retail
.. Mama Chapos ended up becoming our core customers because of on-demand service, fair pricing and convenience. We were not always the cheapest but the convenience aspect really helped them focus on their business.
We used a hub and spoke model, had small depots in the neighbourhoods we operated in .. the eventual goal was to partner with existing businesses/retailers that had storage space to spare and delivery capacity.
We mostly did two, Fresh Fri (B2C – middle class) and Salit (informal retail/kibandas), our B2C footprint was relatively small, so ended up doing quite a bit on Salit including repacking it in 1L reusable jars, see the cost of packaging easily adds 3-5% to the price.
Differences in margin is all about supply and buy planning (basis of commodity trading) and following market prices being set by the bigger suppliers/manufacturers, if they drop you have to drop otherwise you won't move stock.
Flour and oil move every day so it's a volume game and moving bulky items from depot to customer/market in the most efficient way possible, for those who are able to do it really well e.g. the Eastleigh wholesalers and some of the bigger distributors.
So FMCG margins are razor-thin in sub-Saharan Africa, pricing makes or kills a business, so wholesalers and bigger retailers make money from rebates in subsequent months, invest capital to build seed customers and retention, build volume for rebates, qualify for credit .. and build credit lines with manufacturers, that net 15 or 30 or 45-day credit line could easily get sub 10% margin, so not a bad hustle if one has all their ducks lined up, but it's hard, not the easiest of businesses to run, so many things could go wrong
.. which is why you are seeing an influx of new oil and fats brands, if you crack distribution, you can carve out a niche. They call vegetable oil these days "Salad* after the brand Salit.
Primarily it's a quality, price point and availability problem. So more on the distribution side, like milk ATMs, if you can plug a brand on top that and execute, even better
Unfortunately, we shut down our FMCG business in Q4-2021 and are formally shutting down @ChapChapGO .. we've become another statistic of a fledgling startup but hope the insights and lessons learnt will benefit and inspire others.