This month, the Kenya Banker's Association (KBA), the umbrella and advocacy group for the banking industry is celebrating its 59th anniversary. One of its recent projects has been to document the history of banking in the country. This stretches back to 1896 when the National Bank of India, which later evolved into KCB, opened a branch at Mombasa.
The KBA's Banking History website and documentary project has a timeline of different banking eras. Key moments over the last 125 years include the banking growth that followed the Uganda railway, developing local regulation after Kenya's independence, the Africanisation and the indigenous banks push in the 1970s. Others are surviving bank collapses in the '80s and '90s, interest rate controls and recent banking responses to Covid-19.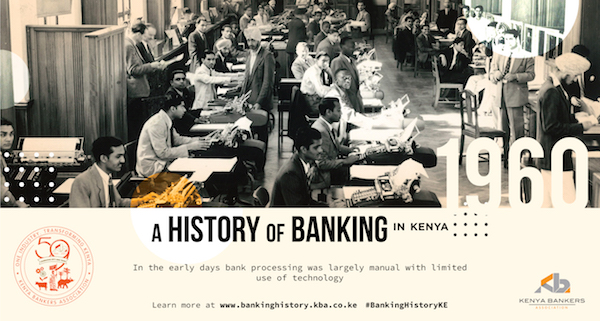 Key throughout has been the embrace of technology from the late 1960s, on through computerization and on to the mobile phone era of the 2010s. Along with tracing banking trends like increasing financial inclusion and developing products for informal and small businesses, the KBA timeline also highlights how banks are anticipating, building skills and preparing for the next age of banking. This is expected to revolve around competition with global fintechs, digitization of all customer processes, and embracing financial sustainability principles.