Absa Bank Kenya celebrated its one-year anniversary at its newly-redesigned Queensway Branch in downtown Nairobi today. It has been a strange first year for Absa which completed the transformation from the Barclays brand in February 2020, three weeks days before Kenya was enveloped by Covid-19 and underwent a shutdown that, while it has progressively reduced, still affected thousands of business, jobs, and customers, as well as the bank itself.
Speaking at the event, Absa Kenya Managing Director Jeremy Awori said the bank had a great strategy to grow and expand, then Covid-19 hit and the year turned to be one of the challenges for the bank, industry, local and global economy. Absa also began to see opportunities for impact and to demonstrate its humanity and innovations to enable the bank to serve customers as they worked to rebuild their livelihoods. They adjusted to have half their staff work from home and instituted a shift arrangement for front-line workers and these enabled 100% of branches to remain open, while the digital platforms had 99% uptime.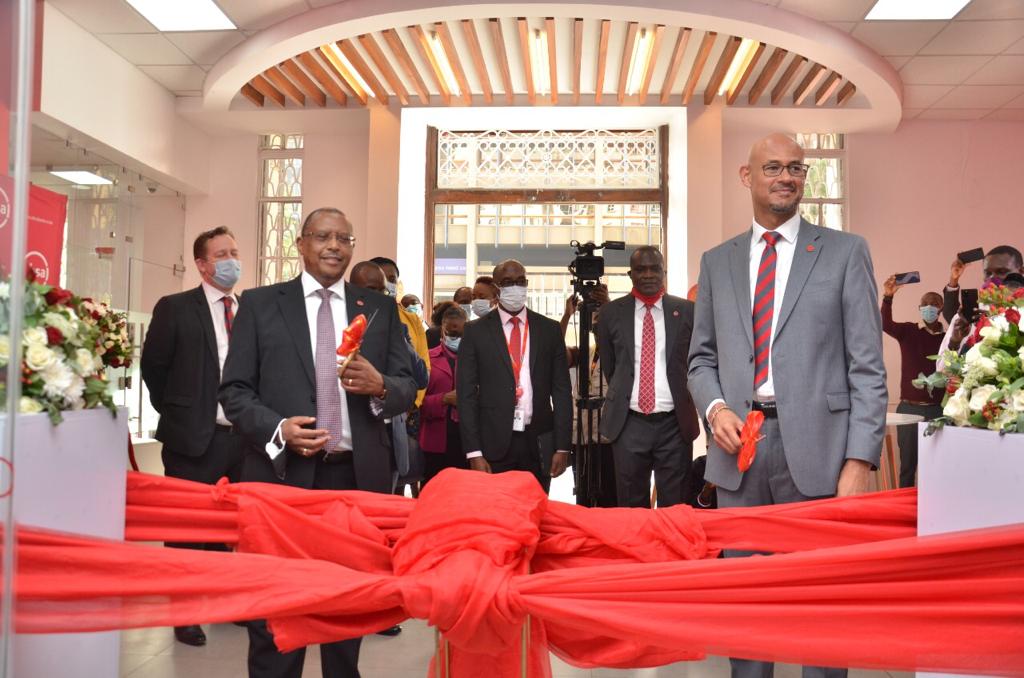 Absa offered financial relief to help customers navigate the pandemic after many lost jobs and businesses. They restructured Kshs 62 billion worth of loan repayments, extending relief to over 59,000 customers. They also continue to lend a sizeable amount to SME's to stay afloat and provide employment, and also committed to paying small suppliers of the bank within seven days to boost their cash flow.
He added that the bank was cautiously optimistic that 2021 will be a better year, with news of vaccines giving confidence to business and governments to relax containment measures and turn to boost economies. Absa Kenya will invest Shs 1.6 billion in 60 technology projects to enhance customer experiences. One will be to automate loan top-ups, allowing people to get loans on top of existing loans, and another will be a new online business-banking platform.
Absa Kenya Chairman Charles Muchene said the bank contributed Shs 50 million to the Kenya Covid Fund, invested Shs 30 million in initiatives led by partners, and donated 210,000 masks for medical workers, with another 20,000 to boda-boda operators. The bank is now asking Kenyans to join and to help underprivileged. They launched a "Wall of possibilities" for people to write suggestions or ideas on the bank's social media pages or at the Queensway branch on ways that the bank can assist communities to benefit. Absa may fund each idea with up to Shs 2.5 million.