This week saw a webinar on August 3 hosted by the Konza Technopolis Development Authority on the planning and growth of smart cities.
It featured governments speakers and urban planners led by Jerome Ochieng, the PS for ICT and Innovation and Dr Chris Kiptoo PS, Ministry of Environment and Forestry, along with Eng. John Tanui, the CEO of Konza, Dr Shipra Suri of UN-Habitat, Juliet Rita of the Architectural Association of Kenya and Karen Basiye, Head of Sustainable Business at Safaricom.
Others were John Kabuye of the Kenya Green Building Society, Enosh Onyango of the Nairobi Metropolitan Service (NMS), Ambassador Njambi Kinyungu from the Ministry of Foreign Affairs, Demola Olajide of UNFPA and Annah Musyimi of Konza – and was moderated by Constant Cap.
Excerpts on the different themes . .
Sustainable Urban Development and Environmental Conservation:
Nairobi has had rapid population growth and rapid urbanization – this has led to waste from mushrooming informal settlements mushrooming being discharged into rivers, dysfunctional sewers, industrial waste flowing into rivers with no treatment, overflowing manholes etc. – PS Kiptoo
The ecological footprint of cities extends way beyond their administrative boundaries – taking in resources and giving back waste. This has to change and things like urban agriculture are important to foods security and bringing down heat levels – Shipra
As part of Safaricom's plan to be a net-zero company, they committed to plant 5 million. They joined with KFS where in planting trees at South Marmanent where they have empowered communities to do more planting. To date, they have planted half a million and will extend to tree projects to Kieni, Busia, the Mau and Mombasa – Karen
Urban settlements must factor in issues of the environment – John Tanui
Konza has been designed using a "stitch & band approach" and its developments parallel to Mombasa road have green (forest and wildlife) corridors- Annah
NMS identified 153 discharge points and shut them down. Also of 110 illegal dumping areas, 87 have been cleared – Enosh
We comingle waste, but when we separate it, we get value – Kabuye
Designing Infrastructure for Sustainable Outcomes:
Konza is being developed using smart city principles; each plot has its use (commercial, education, industrial, wildlife conversation), and it is being developed in phases so it grows as its population increases to eventually reach 200,000 people – PS Ochieng.
This is the best time now to talk about sustainable cities. The degradation of nature and land-use changes are increasing the risk of pandemics; we are paying the price of unsustainable consumption of natural resources – PS Kiptoo
At UN-Habitat we aim to learn from global principles and norms for Kenya to emulate – Njambi
Business and residential associations don't have anyone who looks at sustainability. That has to change – John
If a city does not produce better outcomes, we can't call it smart – Constant Cap
UN-Habitat believes people should be the focus of smart cities programs. The goal is not to go high-tech, but "smart" means you are responsive to people, think ahead and take everybody along – Shipra
Konza meets the needs of the current generation without compromising the needs of future generations – PS Ochieng
We need urban spaces that are responsive to achieve urban dimensions of the SDG's – Njambi
Smart Solutions for Urban Planning:
On Internet of Things (IoT), Safaricom has done smart-metering of aerial water meters with SHOFCO in Kibera (residents buy water with their phones). They are working on IoT for the PSV sector and with UNEP, are monitoring air pollution levels in Nairobi – Karen
Konza has been running innovation challenges on COVID and has received 516 submissions from all the 47 counties – Annah
Plans are not implemented because many are only prepared as a legal requirement; they are not people-oriented to give solutions. They also require changes in land use and policy, but the country's system of land ownership makes it hard to have changes – Juliet
In the developed world, unless children go back to school, parents can't go back to work. But Africa has other caregivers in the home – Demola
During COVID, people have locked up in spaces that were supposed to be their homes, and this had resulted in social problems – Demola
COVID has been the biggest advertisement of the need for well-planned and well-managed urban spaces – Shipra
Riparian encroachment by buildings, garages, car washes and eateries come about from not planning well – PS Kiptoo
Urban Planning in Smart Cities Management:
Digital streaming and collecting data using IoT will enable Konza to make real-time decisions on transport management, smart environment monitoring, smart metering water & energy – PS Ochieng
You can't manage what you can't measure. The Kenya Green Building Society has come up with a tool measure performance of buildings, neighbourhoods, and cities in terms of energy, water, waste, human experience and transportation. They have also donated sensors to Mbagathi and KEMRI to measure Co2 emissions and carbon monoxide – Kabuye
Planning is still very relevant. We have seen what COVID has done to cities as it is an urban-centric disease – Njambi
Conclusion: The mistakes of Nairobi's sprawl are not unique, as Sub-Saharan African cities are the fastest-growing urban areas. It is envisaged that the smart planning and design at Konza and the use of IoT to manage the community and environment will make it a sustainable place for a population of 200,000 people. It will accommodate 30,000 residents, 17,000 who are anticipated to work in the complex.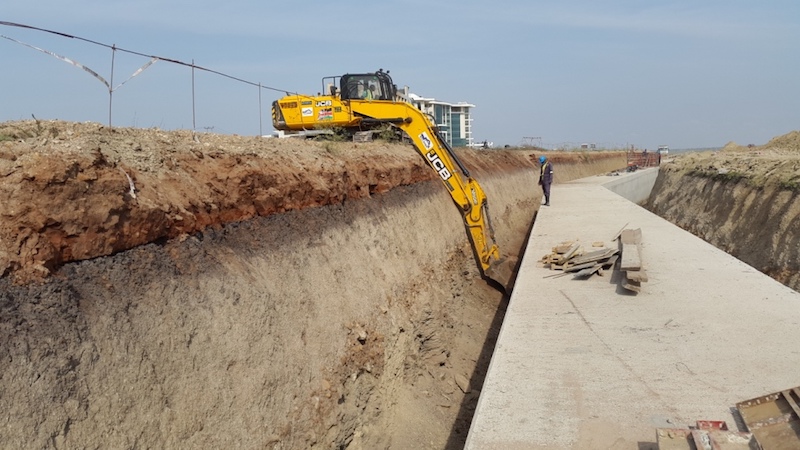 The webinar ended with a call by PS Kiptoo have Konza set the pace for all other cities in the country to "go smart" while PS Ochieng asked more Kenyans to visit Konza to see the ongoing developments and to add to the 10,000 seedlings that will be planted every year there for the Technopolis and community.