KPMG's Audit Committee Institute series organized a breakfast session in Nairobi today that assessed the risks posed by global events & trends and the potential opportunities that could emerge. The session took place at a time when countries and industries around the world are gripped by concerns and efforts to contain the spread and impact of the Coronavirus.
Sophie Heading, KPMG Global's Head of Geopolitics, who is on a tour to speak in different capitals around East Africa mentioned that geopolitics now affects the developed world as much as it does for developing countries. She said that US domestic governance is the number one political risk across the world, and that while there has been a shift in leadership away from the US & Europe (G-7 nation) towards China, currently we are in a G-Zero world in which there is no clear leader.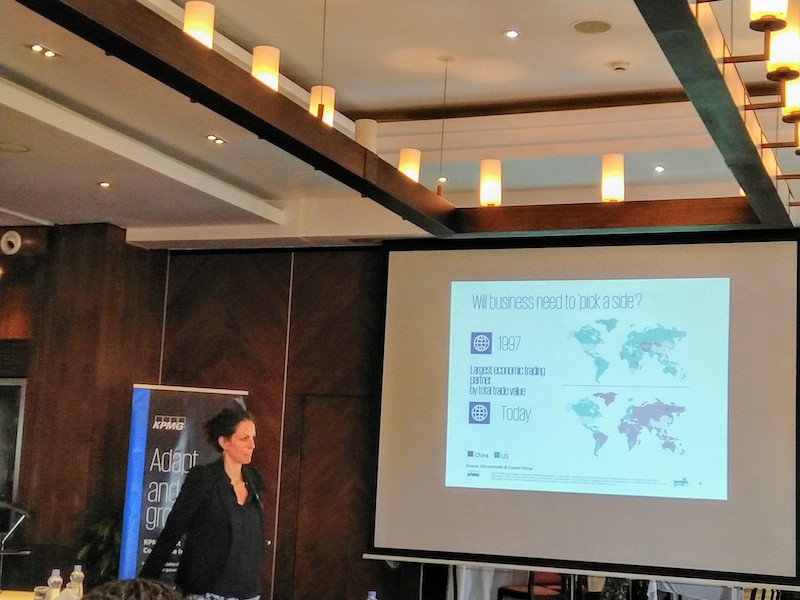 She referenced three distinct areas of technology, trade and trust in which geopolitics could be traced along, and the opportunities they presented for different African countries.
Excerpts
Technology: Advances bring geopolitical power and this is likely to spread to other markets – as seen in the battle between the US and China over spectrum (5G), data, and platforms. China is looking to reshape the Sub-Saharan Africa technological space while the US wants to protect its security interests and intellectual property.
Trade: The US and China have decided to decouple and go separate ways and other countries will have to choose who to align with. Both are seeking new alliances, investors, partners, suppliers, staff etc. but this is also at a time that other key markets are increasing their regulations in terms of capital, policies, taxes and data, etc. Foreign aid used to be a tool that Western states used to influence economic events in Africa, but with the Chinese model of financing infrastructure being so successful, she expected that there will be a drop in aid from the West as it is no longer seen as being effective.
Trust: There is social discontent across the world as young populations feel that government systems are not meeting their needs. This is different in developed nations versus it is in developing ones. But because of their debt levels, most nations now have less policy flexibility to address their internal issues. Also with global growth having slowed down to about 3%, and which may reduce further to as low as 1.5% with the Coronavirus outbreak, any such interventions may widen the social wealth divides within countries.
She said that there is more need to pay more attention to environmental, social, and governance (ESG) issues. This is something that Europe, and the private sector, have championed, but which other governments have not, while the US, China and India have all stepped back on the environmental front.
She cautioned that Nairobi, which is the second-biggest hub in the region for impact investing, but without the Kenya government signalling its interest in championing of ESG issues, may lose out on future investment and client opportunities.