Unique shuttle services by SWVL and Little Ride were ordered to halt operating this week by Kenya's transport regulator, the National Transport and Safety Authority.
Excerpts from a recent  column about the services:
SWVL has interesting routes all over Nairobi from residential areas to business hubs. Examples are for people who make daily commutes from Ruiru or Kahawa Sukari to offices in Westlands, or others who live in Kitengela and work in Upper Hill. Traditionally they would have to use two (matatu) vehicles and walk across the central business district (CBD) which they only pass because it is where most bus routes terminate. 
 But now, enticed with free introduction rides, they can get to work in half the time, by booking a ride in advance on an app, and paying a flat fee of Kshs 200 per journey. Some get to ride in comfortable shuttles with Wi-Fi, not the old, creaky matatus, that serve many 'posh' areas of Nairobi. Little Shuttle has now branched into long-haul services with several daily trips between Nairobi and Nakuru.
The news was first revealed by Kamal Budhabhatti, Chief Executive of Little in one of his regular email updates to customers of Little. He noted that the shuttles they used were from partners who were fully licensed  but that the NTSA had said it was not the correct license.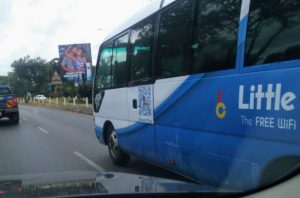 He asked that the NTSA do dialogue with them as a technology companies trying to change public transportation through a popular service that had run for almost a year and which has been very popular. He added that when Safaricom launched M-Pesa there was no regulation on mobile  money and that the Central Bank of Kenya was able to come up with a legal model afterwards. He also wondered if the decision to stop Little was instigated by pressure from the public transport cartels.
On the SWVL side, the General Manager, SWVL Kenya, Shivachi Muleji, stated that: We have been engaging with the government and are still in the process. There have been a few milestones and we are happy with the progress. We'll remain committed to ensuring that we build a business that's fully compliant.
Government Initiatives: Meanwhile the Government's plan for Bus Rapid Transit system and a Nairobi Metropolitan Area Transport Authority (NaMATA) are still at the drawing plan stage. It's also been a few years since Google and Equity bank tries to reorder the finances of the public transportation sector.