On the last Saturday of September 2019, top sports betting companies, Sportpesa and Betin, separately announced an effective end of their operations in Kenya.
Sportpesa posted a statement on their site saying that Kenyan tax administrators had misunderstood revenue generation in the betting industry  – and that the company would halt all brand operations in Kenya as a result. Earlier, Sportpesa management, without citing  numbers, had said that they had settled all matters with Kenya Revenue Authority (KRA), but have still been unable to obtain renewal of their license from the Betting Control and Licensing Board (BCLB)
Thank you or your suggestion. It is well received. Until such time that adequate taxation and non-hostile regulatory environment is returned, the SportPesa brand will halt operations in Kenya._CM

— SportPesa (@SportPesa) September 28, 2019
Then last week on Wednesday, Sportpesa moved to lay off about 400 employees.
So today SportPesa management had to tell its staff what has been the inevitable for the last 3 months – the centre can't holder any longer. Massive grief seeing this entire team rendered jobless by ridiculous policies of our beloved government. #SaveMyJob pic.twitter.com/FizLR3HkGL

— Tom Bwana (@TomBwana) October 2, 2019
Meanwhile, Gamcode (trading as Betin Kenya) also issued a memo to all employees terminating their jobs as the company had not been operating since July 2019. They said they had been trying to resolve for three month's as such all jobs would end on October 31.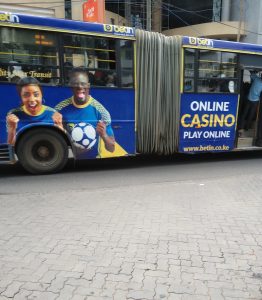 Betin had several big media campaigns with Kenyan soccer star McDonald Mariga, who has unexpectedly stepped into politics and is now in the middle of campaigns to take up the vacant Parliamentary seat for Kibra constituency, following the death of popular MP, Ken Okoth.
By now, with the English Premier League on, local sports pages would have full-page colour advertisements of weekend and mid-week match betting odds and jackpot opportunities. Sportpesa also had significant spending in Europe sponsoring the Racing Point Formula One  team and Everton in the UK premier league and those teams still adorn  Sportpesa brands.
The claims of banning sports betting have been varied, with their destructive influence on young Kenyans, tax evasion and money laundering at different forums. Even a former Chairman of the Betting Control and Licensing Board, Kimani Kung'u, questioned whether non-payment and non-compliance with taxes was behind the freeze on the top betting companies.
In an interview with Radio Jambo in July, Kung'u said that the revenue of betting companies at the end of 2018 was between Sh20 billion and Sh25 billion and that there is no way that could have risen to Sh200 billion by mid-2019.

There have been three groups of companies: The group of 26 companies that were banned in July 2019 included: Mozzartbet, Sportybet SportPesa (Pevans E A Ltd), Betyetu (Oxygen & Gaming EA Ltd), Betin (Gamcode Ltd), Betway (Blue Jay Ltd), Easibet (Dreamcall Ltd), Betpawa (Gaming International Ltd), Betboss (White Rhino Ventures Ltd), Elitebet (Seal Capital Ltd), Dafa bet (Asian Betting & Gaming Ltd), Lucky 2 U, Cheza Cash (Sekunde Technologies), Palmsbet (Advanced Innovation Ltd), 1X Bet (Advanced Gaming Ltd), Saharabet (Sahara Game Technology Ltd), Bungabet (Galaxy Betting Ltd), Kick Off (Kick Off Sports Bar Ltd), Kenya Sports Bet, Eastleighbet (G&P Trading), and Premier Bet Ltd.
Those reportedly cleared later by KRA in July 2019 include Mozoltbet, East bet,  Lucky 2u, Eazi Bet, Kick off, Eastleighbet, Palms Bet, Bet boss, Betway, OdiBets, Mozzartbet and Ken Bookmakers.
Those xleared in August 2019 include Oyster, CityBet/EAF Galaxy, Shop & Deliver, Kareco, Playco, GrayHoldings/GameCo/Shabiki, NZ Mobile, Cheza Gaming, Hanstaunton Technologies/LottoCoLLP, and Zumabdu/Betlion.
None of the relicensed firms appears, so far, to have the impact and reach of Betin and Sportpesa.
Winners from the shutdown:
Moses Kemibaro has done a nice piece about the impact that the ban on Sportpesa and Betin has had on their web traffic and that of the other companies that have come to benefit from new betting activities, including Betika. He writes that "The biggest winners from Kenya's sports betting armageddon are undoubtedly Betika, Odibets, MozzartBet Kenya and Kwikbet Kenya who have grown massively in terms of audiences and traffic during the last couple of months."
The Internal Security Minister has said that Kshs 200 billion that was previously leaving the country through sports betting firms, is now being spent locally, boosting the local economy.
Losers from the shutdown include:
Media companies and newspapers: Gambling companies were among the top advertising spenders in the country up till this year. They would have about two color pages in all the newspapers, radio & TV ads, and several billboards across town. But as of this weekend, the newspapers are devoid of the advertisements except for small ones by 

Mozzartbet (for a 10 million jackpot for 50 shillings) and Betika (register and bet via USSD, with no data bundle required for a 100 million jackpot for 49 shillings)

. 

The Kenya Premier League, which is limping since it lacks a top sponsor. Sportpesa had stepped in after Supersport had pulled out in protest at an ill-advised decision by the league to increase the number of participating teams from 16 to 18.
Telcos: Bettors and betting companies generated messages with every bet that incurred fees and bets were settled by mobile money payments. While companies are considering cards as a payment option, that is a minority that lags compared to mobile money usage.
EDIT Oct 11 2019: 
Official Company Statement. pic.twitter.com/njWH8NqNcj

— Betin (@BetinKenya) October 11, 2019
Betin Kenya released a statement, saying that they, as a company, were fully tax-compliant, and that the betting industry had collectively paid Kshs 10 billon ($100 million) in taxes in 2018, but that the government had refused to renew its license, causing it to lay off its staff and shut down its retail outlets.
EDIT: Jan 14 2020
Betway announced a three year sponsorship of a soccer tournament that will feature 48 teams.