My first trip to South Africa was back in 2006 to attend the combination of Highway Africa, and the inaugural Digital Citizen Indaba which was Africa's first-ever major blogging conference.  Highway Africa, billed as the largest gathering of African journalists, was run by the Rhodes University's School of Journalism and Media Studies. It was supported by the South African Broadcasting Corporation, South Africa's Department of Communication, Absa bank, Multichoice, MTN, South African Airways, Sunday Times, among others.
So it was a pleasant surprise this month to encounter the spirit of Highway Africa and reconnect with those  pioneer conferences. This was at a data journalism masterclass, at Enashipai Resort, in Naivasha, Kenya. Absa has been sponsoring the data class that aims to assist financial journalists to report on complex financial matters since it was a part of the two-decades-long Highway Africa that is now on hiatus.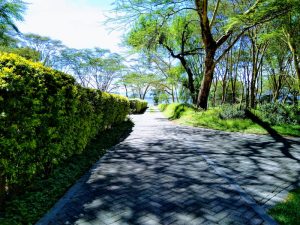 In 2019, the classes have been held in Uganda, Kenya, Zambia and  Tanzania. Four more countries will be covered in November. The program is done in conjunction with Rhodes University and is led by Peter Verweij.
The masterclass had themes of finding and scraping data, and also analyzing, mapping, and visualizing data for presentations that enrich stories. This was done using free tools and diverse data sets to infer correlations on subjects such as sub-Saharan African debt, sovereign ratings and financial inclusion.
There were also sessions about the ongoing plans at Barclays Africa which is rebranding to Absa in twelve African countries. Barclays has been operating in Kenya for 103 years, and the bank which is listed on the Nairobi Securities Exchange, remains one of the top-performing banks this year in terms of capital efficiency and returns to investors.