BBC Hub: Monday, November 5 saw the BBC launch their largest news bureau in the world outside the United Kingdom with Nairobi now being the home of the 300 of the network's 600 journalists working in Africa.
The @bbc opens their largest news bureau outside UK. 300 of the 600 staff in Africa will work from Nairobi. #MeetBBCEastAfrica @bbcafrica @bbcnews https://t.co/aQviemArFr pic.twitter.com/pl4h4r5lTi

— Bankelele (@bankelele) November 5, 2018
This is all part of the W2020 project that aims to increase the impact and reach of the BBC.  Rachel Akidi, Head of East Africa Languages, said that in the last year, staff numbers in Nairobi has grown rapidly and significantly from 80 to 300 as several journalists who were familiar faces on local channels are now on BBC. The World Service team now produces 800 hours of new content comprising news, investigations, health, women's discussions, sports, business etc, broadcasting in 12 languages, 6 of which are African, with the content distributed via TV, digital and radio.
The day also saw the launch of a fourteenth local program called "Money Daily" and the BBC has also set out to tackle the problem of fake news with a dedicated new program about this that launches on November 19.
TV stats: Meanwhile, Kenya has also seen some new television channels launch recently including Fanaka TV, an all-business channel, and SwitchTV. Another of the new channels has released some interesting statistics on TV viewership in Kenya: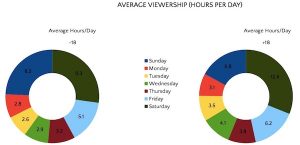 Friday to Sunday has the highest TV viewership, in terms of hours consumed daily. But within a month, the period between the dates of from the 12th to the 25th of the month sees the highest number of hours consumed.
Live viewership of events (e.g. sports, award shows) results in a significant decline in watching traditional media e.g. news and feature shows. Reality TV is mainly watched live due to social media engagement.
Wireless streaming does not work on all fixed wireless ISP's in Kenya. It works over 3G and 4G, which offer a more reliable, but pricier, delivery model.
Kwese Goes Digital: Kwese, the Pan-African digital channel, pulled the plug on its satellite broadcasting services as it announced a switch to focus on digital broadcasting its Kwesé Free Sports, Kwesé iflix and Kwesé Play.
Hi, Kwesé has repositioned its business to focus on mobile entertainment business namely Kwesé Free Sports, Kwesé iflix and Kwesé Play. Kwesé will waive monthly subscription on Satellite TV fees however a minimal fee may apply on an annual basis

— Kwesé (@watchkwese) November 2, 2018
Kwese's free-to-air service was in 11 African countries, but going forward viewers can download the Kwese app to their phones and subscribe for content, with Kwese iflix being free for 12 months.
GAA: Several people including a current Member of Parliament (MP) and a former Permanent Secretary were charged with obtaining money by false pretences and fraud.
Former Broadcasting & Telecomm. PS Sammy Itemere, Lugari MP Ayub Savula & 22 others charged with conspiracy to defraud GAA of Sh122 M. All denied charges. PS & 22 others released on Sh2M bond with surety or sh 1M bail. #AntiCorruption_ODPP#GAAProsecution pic.twitter.com/JvCK2DtYKs

— Office of The Director Of Public Prosecutions (@ODPP_KE) October 29, 2018
This relates to a Government Advertising Agency (GAA) that was created a few years ago to handle all media advertising for the government. But for several recent months, leading media houses have been complaining about unpaid bills, with the Nation Media Group attributing its latest half-year profit dip to the Kshs 856 million (~$8.5 million) owed to it by the agency.