Kenya's Capital Markets Authority (CMA) will be holding a nationwide University Challenge as part of its education and investor awareness outreach program. The CMA team staged a chat last week on its Facebook page where its staff answered dozens of questions from young investors interested in participating in the Challenge, which is the second one in the series after another that was held in 2015.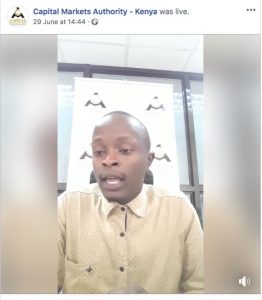 Some excerpts of the responses during the chat:
The Challenge is open to all students interested in capital markets.
It is for individual young investors (over 18 years), who are en

rolled at any university in the country and are in good standing academically (i.e. not on probation, or suspension at their university), and who 

must not be related to any CMA officials of organizers of the Challenge.

Once 

the

 university Challenge starts in mid-July 2018, the CMA which also has an investor education department will organize tours and 

barazas (meetings)

 with some Universities and will also have ambassadors at 

different

 campuses around the country.

The CMA Investor Education department has an investor education page on 

their website, a library for research, and also a unique resource portal for investors in capital markets to get information which is also useful to people who have graduated and are now outside of campus, but still interested in becoming savvy young investors.
The Challenge runs from July to November and students who enter will go through a series of online examinations, and the finalists will also get to give presentations.
The top prize is Kshs 150,000 (about $1,500) which the winner will use to buy shares at the Nairobi Securities Exchange (NSE). Other winners will also get a chance to travel and see how capital markets in other African countries work.
You can re-watch the chat on the CMA Facebook page.
Besides the Challenge aimed at young investors, other interesting and notable CMA opportunities include a sandbox to test bitcoin, block-chain, and other financial technology (fintech) solutions in Kenya.