Fresh from the Farnborough air show, Embraer embarked on an African tour to showcase their planes in what they see as an under-served air market on the African continent.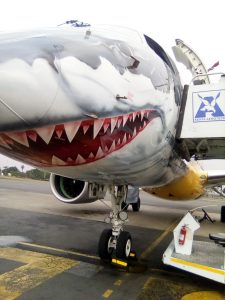 The company flew an Embraer E190 E2 jet with a unique shark-nose look (nick-named "profit-hunter") to Algiers (home of Air Algerie)  and Casablanca (Royal Air Maroc), then on to Accra and Nairobi. Kenya Airways (KQ), which is the largest Embraer E-jet operator in Africa and also hosts one of the few approved E190 services centres in Africa, staged an event that featured local aviation officials, KQ customers and the Brazilian Ambassador to Kenya that ended with a demonstration flight that over Mt. Kilimanjaro, Africa's highest point. 
Embraer was keen to showcase the quietness and efficiency of the E190 which they bill as the best single-aisle aircraft. They view Africa as an under-served aviation market in which 95% of flights have less than 150 passengers and 61% of routes have less than one flight per day, with many potential new routes being 4-5 hour flights, that are beyond the operational reach of propeller planes and with their E-jets as just the right size for African airlines.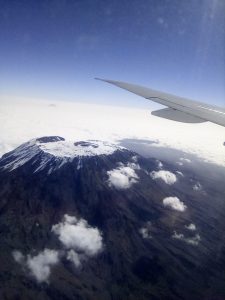 Kenya Airways has been flying Embraer's since 2006. They started with the smaller E170 and upgraded to the E190's which now form a third of their lean fleet; they have 15 of them – 10 are owned, 5 on lease  – and they seat 12 passengers in business class and 84 in economy. But it is unlikely that Kenya Airways that is emerging from a long restructuring process will be buying any more planes soon, but other things are happening and at Farnborough, Embraer and KQ announced a new spare parts supply deal.
After Nairobi, the E2 jet flew on to Mauritius where Air Mauritius is tipped to be a potential customer and they planned to continue on to South Africa where Embraer has a training centre and a regional office for Middle-East and Africa.