EABL released their financial results for their 2018 year to June this week. It was a tale of two halves with flat growth in the first half of the year which coincided with Kenya 's prolonged electioneering period and which affected sales of its products such as Senator lager, an affordable beer brand.  But the second half of the year (January to June 2018) saw a more business-friendly environment and more money in consumers pockets.
EABL ended the year with 5% revenue growth to Kshs 73.5 billion and the star of the show for the company in 2017 was Tanzania which saw 41% growth, mainly driven by Serengeti Lite beer. Also, special innovations that contributed 22% to the results is one of the best performances in the world. At EABL, Tanzania' grew to account for 11% of revenue while Kenya's was 73%, and Uganda was at 16%.  Capital expenditure was Kshs 13 billion, up from the 5 billion the year before and Kshs 7.8 billion was due to the Kisumu plant which is expected to be opened later in 2018. While overall profit before tax for EABL was Kshs 11.7 billion, a decline of 12% from the year, the company will pay out the same Kshs 7.50 per share dividend to shareholders.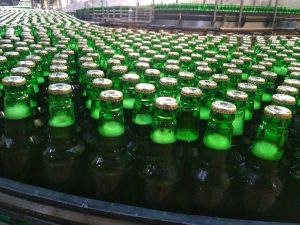 The EABL managers spoke of innovating to reach the 1 million consumers who attain the legal drinking age (18) every year in Kenya – and investment in existing brands, and rolling out new brands to win over changing customers tastes. They also made some excise tax savings in Uganda by moving some  Tusker and Guinness production there while in Kenya, EABL's profit was weighed down by a Kshs 2 billion one-off provision for taxes that significantly reduced their final result. They said a stable tax environment would enable the company to generate more taxes for governments without causing consumers to pay more.  
Also that by doing more local production of beer and spirits at Ruaraka in Nairobi, at Tanzania, Uganda and soon at the new line at Kisumu has allowed them to bring global brands into countries and produce and offer them at local prices. In the 2019 financial year, they will commercialise the Kisumu brewery which will also benefit 15,000 farmers and generate over 100,000 direct and indirect jobs in the production and distribution chain of Senator beer from Kisumu.