This week sees Nairobi host the 7th Building African Financial Markets (BAFM) seminar with the theme of "adaptive innovation as a lever for growth and sustainable development of financial markets".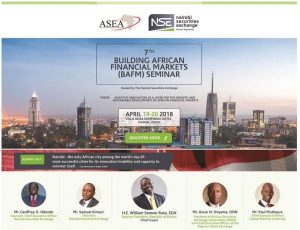 News of the seminar was unveiled by Nairobi Securities Exchange (NSE) CEO, Geoffrey Odundo in January 2018 when Barclays launched its Africa Financial Markets Index (AFMI) report in Nairobi. The Barclays AFMI measured African stock exchanges by six pillars of market depth, access to foreign exchange, market transparency, macro-opportunity, enforceability of agreements and capacity of local investors, and it ranked South Africa on top, with Kenya in fifth place.
The NSE and the African Securities Exchanges Association are organizers of the BAFM event with  Bloomberg and Barclays as gold sponsors. The ASEA, which was founded in 1993 with the Nairobi Stock Exchange as the first member, now has a membership of 40 African stock exchanges.
The BAFM will be officially opened by William Ruto, the Deputy President of the Republic of Kenya. It will feature leaders and speakers from organizations such as Nasdaq, the Johannesburg Stock Exchange, EFG-Hermes – a Cairo-based investment bank that is new to Nairobi, and Safaricom, while some of the sessions of great interest are likely to include "a blueprint for orderly markets in Africa", M-Akiba; the $30 mobile-phone government bond as a disruptive technology reshaping African financial markets, "building new markets in frontier economies", a guide for managing cyber risk, linking African exchanges organically, and "is blockchain the future of finance or a flash in the pan?".