From a Kenyan magazine issue – The Weekly Review in September 1985.
The Receiver & Manager of Kenatco offered for sale the business and assets of the two businesses – haulage and taxis, either together or separately as going concerns. This meant the businesses were operating, and receiver/managers are usually appointed by financial institutions to take over what they see as struggling businesses that are having trouble paying their bank debts, but which could be turned around with better management. Banks do this before the businesses shut down completely. The Kenatco businesses were: 
Haulage Comprising: 85 haulage trucks of various makes including Mack, Fiat, Mercedes, Leyland, and Volvo and 90 trailers of various makes including Vibert, York, and Miller.
Taxis: comprising 79 Mercedes-Benz 200 Saloon Car Taxis – petrol and diesel-powered.
The two businesses shared land including two leasehold plots – 

at Likoni Road, Nairobi (5.9 acres) and Changamwe Industrial 

Area, Mombasa (7.9 acres). 

Also on sale were service & administration vehicles, workshop plant & equipment as well as office furniture &  equipment.
A document giving full particulars of the business and assets for sale was made available and could be obtained at a cost of Kshs 300/ – (refundable in the event of a successful purchase of the assets) from J .K. Muiruri, Joint Receiver and Manager, Kenatco Transport Company, Ltd., Alico House, P.O. Box 44286, NAIROBI Tel. 721833.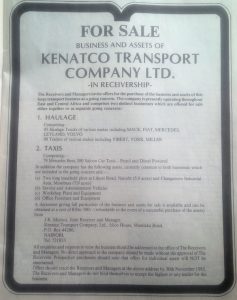 Offers were to reach the Receivers and Managers by 30th November 1985, and conditions were that the Receivers and Managers did not bind themselves to accept the highest or any tender for the businesses, and offers for individual assets would not be entertained.
A separate notice was also issued for the sale of other assets of Kenatco – which were surplus vehicles, equipment and scrap items that were not part of the "going concern" sale. The assets were located in two towns with offers due on October 19, 1985, and the receivers & managers described them as:
Nairobi (Likoni Road)
Administration Vehicles:  

6 Peugeot 404 pickup escort vans (1979/1981), 

Mazda 929 KVV 404,  (1980), 

2 Toyota Carinas – KRB150/KRB151 (1977), 

Peugeot 104 AB38ll (1979).

The scrap items included 395 tyres, 117 scrap iron sheets, 56 batteries, 24 fibre glass fuel tanks, 2 safes, 2 steel fuel tanks, 13 tarpaulins and 19 empty oil drums.
Spare parts for Chevrolet, Datsun, Land Rover, Volkswagen, Toyota, Renault, and Mercedes vehicles.

 
Mombasa:  (Changamwe)
2 Peugeot 404 pickup escort vans, Toyota Carina KRA 910 (1977), Mercedes-Benz 200D KPL 251,
Yamaha motorcycle 100cc KTD 207 (1979), Boss forklift KND 686.

The scrap items included 

468 tyres, 141 

batteries (1979),

48 oil drums and 7 tonnes scrap metal (1973).
Other Kenatco articles:
Excerpt about the company: KENATCO, a cooperative with 9,000 members was very successful with profitable routes to Zambia, Angola, and Rhodesia until East African problems led to them not being allowed to carry heavy vehicle freight through Tanzania, and that government's detention of one-third of their fleet. 

This article gives the

background and history

of Kenatco. 

The Kenya National Transport Co-operative Society, as it was named in 1965, was the first transport business society in Kenya…The Kenatco pioneers had a big dream. So big, that they not only wanted to go into the haulage business, but also to buy some tourism boats and a plane to serve the local tourism market.
See the Hansard from Kenya's parliament on 26 November 2008 that describes how the Kenatco receivership came about. 
Kenatco is still under receivership. In 2016, Receiver Manager John Ndung'u said that finance costs are driving the company into losses, even though it has been making an operating profit since 2002.
Kenatco still exists as a Kenatco Taxis Ltd. a fully fledged government parastatal wholly owned by ICDC. It is Kenya's leading, most reliable value-for-money taxi company, with a clean and modern fleet, efficient back-office infrastructure, on-the-road back up services, for that comfortable and safe drive, pick up and drop off at whichever location within Kenya.
Also see this Nation column by John Kamau about how Kenatco re-entered receivership in 1983, leading to this particular auction of their assets.