What companies were listed on the Nairobi Stock Exchange, twenty years ago, in 1997? A chart of listed shares appeared in Financial Review which was a popular magazine that featured business, and later political stories.
Still Listed
BAT Kenya
Bamburi Portland Cement
Barclays Bank of Kenya
Car & General
Carbacid Investments
Credit Finance  (later CFC, now Stanbic?)
Diamond Trust
Dunlop Kenya (now Olympia)
Eaagads
East African Breweries
East African Cables
East African Portland Cement
E. A. Oxygen (now BOC)
Express Kenya
ICDC Investment (rebranded as Centum)
Jubilee Insurance
Kakuzi
Kapchorua Tea
George Williamson (Williamson Tea)
Kenya Oil (Kenol)
Kenya Power & Lighting
Limuru Tea
Nation Printers & Publishers (now Nation Media Group)
National Industrial Credit (now NIC Bank)
Pan Africa Insurance (now Sanlam Kenya)
Sasini Tea
Unga Group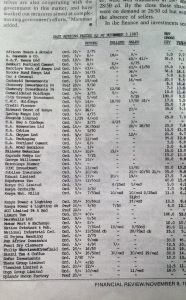 De-Listed 
CMC Holdings
A. Baumann & Co
Brooke Bond (became Unilever Tea)
Hutchings Biemer
Elliotts Bakeries
Kenya Orchards
Marshalls
Ol Pejeta Ranching
Timsales
Uplands Bacon Company
Gone
African Tours & Hotels (now Kenya Safari Lodges)
Chancery Investments
Consolidated Holdings
City Brewery Investments
E. A Bag & Cordage
E. A . Packaging
E. A. Road Services
Kenya National Mills (absorbed into Unga)
KCC (there's now New KCC)
Motor Mart & Exchange
Pearl Dry Cleaners
Philip Harrison & Crossfield
Sofar Investments
Theta Group
This Standard article explains what happened to some of the companies. e.g. City Brewery manufactured City Lager beer, and Theta was a tea factory while many others were bought out or went out of business,
Also, see Who Controls Industry in Kenya in 1968.