Citi Bank has been producing some insightful research reports on companies they watch like KCB, Equity and Safaricom for their investment clients.  The latest one (Will it stay or will it go? — Awaiting clarity on the Banking Act) is an outlook on Kenya banking, based on the financial results that all banks released for the third quarter of 2017 which is exactly a year after Kenya's Parliament passed a law, which the President then signed, that capped all Kenya banking loan rates at a maximum of 14% per year.
Citi's findings:
Despite the Banking Act of 2016, Kenya's leading banks maintain among the highest margins (8~9% NIMs) and returns (ROTE 20~23%) of any frontier market, coupled with strong capitalization, a stable currency and an improving political environment.
While there is little clarity on the future of the Banking Act, we acknowledge that many investors are interested in that "what if?" case if the legislation was to be amended, and hence provide a sensitivity analysis to gauge the upside from changes to the regulatory regime.
The Kenya banking sector is fairly concentrated with the top 5 banks controlling just under half of the assets (48%), KCB is the largest bank with a 14% market share, followed by Equity Bank and Cooperative bank with 10% each. A similar story for deposits, with the top 5 banks accounting for 50% of the market, KCB is the largest player with a 15% share, followed by Equity Bank at 11% and Cooperative bank at 10%.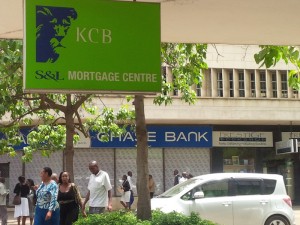 The Citi report notes that KCB who grew loans by 9% in the third quarter despite the interest rate cap has a diverse client base that makes it easier for the bank to navigate the challenging environment. KCB has expressed interested in acquiring smaller banks like National Bank, as it also it pulled back from volatile South Sudan in May 2017, where it only retains a license.
Equity has put brakes on lending, with flat loans growth in the third quarter. The bank's Equitel is now Kenya's second largest mobile money platform after Safaricom's M-Pesa, with 4% of customers and 23% value of transactions. Equitel appeals to customers as it has no internal charges. Meanwhile, mobile loan growth fell in the half year at Equity as the bank tightened lending standards, while KCB's grew. Still, Equity disbursed 1.6 million mobile loans through Equitel in the first half of 2017.
The Citi report also notes that KCB lags Equity in the digital push, with mobile phones accounting for 70% of transactions at Equity and  57% at KCB. Elsewhere, 86% of all customer transactions at Co-op Bank are done on alternative delivery channels mainly mobile banking, ATMs, internet and agency outlets. Another finding was that the large banks have benefitted from the flight to safety by depositors following the collapse of three smaller banks in 2015-16.
The Citi Report looked at the Kenya banking interest rate caps under three scenarios with the first  being that the caps are extended even further to bank charges. The report mentions that the Kenya banking regulator, the Central Bank (CBK), had rejected 13 out of 16 commercial bank applications to increase charges, all pointing to tough times for banks in a slow loan growth environment. The second scenario was that the interest rate cap remains as is, and the third scenarios was that the caps are loosened by excluding some loan segments which will allow banks to lend at higher rates to riskier segments like SME's, retail and micro-finance clients. However, Citi finds that the interest rate caps are not going away soon, and they are here to stay, probably for a few years. 
Finally, the Citi report (published on 19 November), rates KCB as a 'buy' with a target share price of Kshs 47 (current price on December 8 is Kshs 43), while they are neutral about Equity Bank which they value at Kshs 38.5 per share (current price is Kshs 41) as they think it is fairly valued.