The Techcrunch Startup Battlefield Africa, supported by Facebook, was won by Lori, a logistics platform being developed to simplify the movement of cargo in Kenya.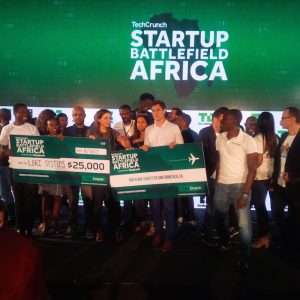 At the TechCrunch event in Nairobi, 15 startup companies pitched and demonstrated their concepts in between chat sessions on the unique business climate of Africa that featured other seasoned entrepreneurs, advisors, and funders, with moderation by Facebook and TechCrunch staff.
The competing companies were drawn from sectors like finance (WeCashUp, Abacus), data collection (Form+, Delivery Science), logistics (Lori Systems), sales (Sellio,  SynCommerce), entertainment (Big5 Games, Tango TV, Gazkar from Lomay), health – ConnectMed,  education (M-Shule, Dot Learn), recruitment – Talent2Africa and agri-business – AgroCenta.
Lori won the day and walked away with $25,000 and an all-expense-paid trip for two to compete in  TechCrunch's flagship event: Disrupt SF 2018
Winners will join TechCrunch's Startup Battlefield Alumni Network. Alumni have collectively raised nearly $7 billion and produced nearly 100 exits and IPOs to date.
Some excerpts from the day:
Brands are creating collections and Michele, Beyonce, Rihanna are wearing African brands – that's opportunity @KISUAonline #TCBattlefield
Most lucrative buyers for @agrocenta are big companies such as breweries, animal feed, soya oil #TCBattlefield
Logistics is a $500B market for innovations that eliminate middle-men and make food supply and demand efficient – @agrocenta #TCBattlefield
80% of farmers don't have access to direct markets and logistic inefficiencies lead for 25% of food being wasted – @agrocenta #TCBattlefield
Black Africans in tech are not getting a lot of the money coming into tech – @africatechie #TCBattlefield
I'm in Silicon Valley; I may be on a board, but I'm not at the birthday party or talks for the next round – @africatechie #TCBattlefield
@big5games builds localized data-optimized easy-to-play games on sports, farming, stocks with partners like Kwese & telcos – #TCBattlefield
If you arrange for 20 cargo trucks between Nakuru to Eldoret, 15 will commit, 5 agree on price, but 2 will show up – Lori #TCBattlefield
A typical lorry takes 3 days to load its cargo, to make a 12-hour journey, then another 3 days to unload – Lori #TCBattlefield
Products cost more in Kenya as the logistics chain is broken; trucks are empty or idle 93% of the time – Lori #TCBattlefield

Today @AbacusKe launches Kenya's first automated investment service – using algorithms to personalize advice – @TheMacharia #TCBattlefield

@AbacusKe aims to be Africa's e-trade; local & foreign investors can make stock debt property & unlisted buys – @TheMacharia #TCBattlefield
@wecashup does 1M transactions per month of ~10 euros and partners with banks so they don't need a license for every country #TCBattlefield
@wecashup 2.0 integrates payments whether cash, mobile money, cards, crypto-currencies in 42 countries, and own 6 patents #TCBattlefield
You can build a $50M business serving a Lagos neighbourhood; but there's a daily swing between risk & uncertainity – @EghosaO #TCBattlefield
Local investors say – don't tell me about 10-yr plans when I can bring a container from China and make more money – @EghosaO #TCBattlefield
Africa is about iceberg micro-economies; see below the surface – biggest opportunity is organising offline markets – @EghosaO #TCBattlefield
Saying Nigeria has 180m people or Africa has 1.2 billion brings wow – but you should think at city levels – @EghosaO #TCBattlefield
Our challenges include raising capital and dealing with regulators & muscled players (non-market forces) – @oviosu #TCBattlefield
Nigeria is the biggest market in Africa. River State is bigger than most African countries – @oviosu #TCBattlefield