Thursday saw the world-wide launch of Viceroy 10, a limited edition 10-year-old vintage brandy from the award-winning Van Ryn Distillery, through KWAL.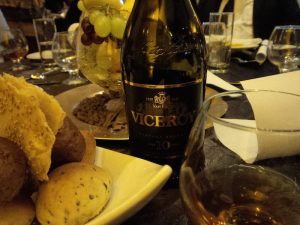 At a brandy and food pairing session at the Norfolk hotel, Brandy Master Wallis Uye explained the complex process of grape selection, wine making, blending, maturation and distillation over ten years which includes the patience not to tap it after a few years.
Viceroy is distributed by KWAL which is now majority-owned by the Distell Group after a Kenya government privatization program. Spirits have  been one of the fastest growing segment of Kenya's alcoholic beverage industry and KWAL sold 8 million liters of alcoholic beverage brands in 2016. Distell is  one of the top beverage companies in Africa and was recently placed fourth on a Deloitte list of the top 50 listed African consumer product (CP) companies, with $1.73 billion revenue in 2015. Van Ryn  was founded in South Africa in 1845. The new Viceroy 10 bottle sells for Kshs 3,000.