Excerpts from his recently published official biography – Against All Odds. 
Background
– He worked at customs department at the port of Mombasa where he was disgusted by the bribery he saw. He did his pupillage at Kaplan & Straton. Later he got a Rotary Club scholarship to study business management at Cyprus and he was poached to work at Manu Chandaria's Comcraft in the legal department.
Lost the 1983 election and came fourth. But when the MP was shot two years later by a policeman, occasioning a by-election, Kalonzo reluctantly entered that and won.
He has always been touched by the poverty he saw when he grew up and launched the Kalonzo Musyoka Foundation in January 2006 which worked with Shelter Afrique to launch affordable housing for rural women in Kitui.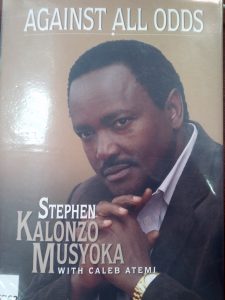 Cabinet & Economic Intrigues
KANU era: Mwingi is one of the fastest growing towns in Kenya because of the water it gets from Kiambere-Mwingi. But that was only after he fought off powerful forces after he secured $116 million from the Italian government – a powerful voice who wanted it to go to the National Water & Pipeline Corporation but Kalonzo steered it to TARDA so it did not become a white elephant.
CHOGM The Commonwealth Summit in New Zealand which was attended by Mandela was almost overshadowed by 'Bull of Auckland' incident. But Kalonzo explained the incident to officials there so that it did not reach the media there or affect the ongoing summit. But it did leak afterward in the Kenya media.
When Tony Blair praised him before President Moi after the 1997 CHOGM, he knew had lost his Foreign Affairs docket – and after the elections, he was moved to the Education & Manpower ministry.
In 1998 he fled teachers striking outside his office by hiding in his wife's car. He then got Mulu Mutisya and elders to negotiate a settlement with teachers union (KNUT) and the strike was called off the following day.
Moi was shocked at the excesses of Mobutu when they visited Gbadolite – his hometown and said "River Ubangi could generate electricity for all of Africa.
South Africa:

After Kenya had in 1963 turned down an ANC request to set up a base in Nairobi, Moi worked hard to mend fences with South Africa after Mandela was freed, and Mandela thanked Moi for $1 million that Kenya gave to ANC during apartheid struggle. Mandela also made a secret visit to Nairobi when he fell ill on a flight in April 1990, then returned for an official visit in July.

NARC:

Free primary education was Kalonzo's brainchild as education minister. When Kibaki became the NARC candidate in 2002, Kalonzo gave the campaign team all the papers and policies that he had written – including on FPE that was soon implemented by the new government. 

MOU breach: Happened when Kibaki moved Kalonzo from Foreign Affairs to Natural Resources. All NARC summit leaders had a choice of their ministerial dockets – and he had chosen Foreign Affairs, Raila had taken Roads & Public Works and Moody chose Home Affairs. 

Jubilee:

After beating back a "feeble" Musalia (for president) effort, Uhuru and Ruto turned on to him; and his reunion with Raila started the day Uhuru and Ruto returned from the ICC hearings and after (vice president) Kalonzo had met them at the airport and driven around Nairobi with them.
The book is available to buy here.