Kenya Airways (KQ) just released their quarter three operational  results for December 31 (2016). Continuing on the restructuring changes that came after they announced their last financial results, theThe fleet and seats available for sale was 3% smaller as a result of off-loading idle aircraft from the fleet, through sale of Boeing 777s, and leases and returns of others.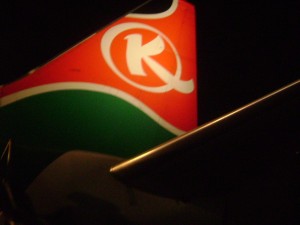 Despite the smaller fleet, KQ flew 1.1 million passengers in the quarter, almost 5% more than last year with a cabin factor of 72% up from 68%. The passengers were on routes in Europe (102,749), Middle East & Far East (138,700), Africa (530,842) and within Kenya (347,136)
KQ increased the number of flights in Africa, while reducing capacity on others as a result of  using Boeing 787s and Boeing 737s on the Middle East, China and India routes that were previously served with Boeing 777s. They added routes to Cape Town, as well as others on the Nairobi-Entebbe-Bangui and Nairobi-Doula- Bangui but suspended flights to Gaborone and Abuja.
KQ's financial year-end is on March 31, 2017 and they are currently celebrating their 40th anniversary with a 40% fare sale on all routes, and with special fares in business class, marking their beginning in the year 1977. They also just announced an interline cargo agreement with Qantas through which they target to fly 30 tonnes of flowers per month to Australia, as they explore shipping even more flowers to China and the Far East
Last week also saw Kenya Airways largest shareholder, the Government of Kenya, flex its muscle by canceling a third Emirates daily flight into Nairobi that was to begin in June 2017. Emirates currently flies Boeing 777s twice daily between Nairobi and Dubai.