Updated January 10, 2018
On Thursday, Kenya government officials, led by the Cabinet Secretary for Transport announced that Kenya has been granted Category 1 Status by Federal Aviation Administration(FAA) of the USA. This followed extensive renovation work at the JKIA airport in Nairobi and other aviation improvements. The elevation by one US aviation authority is a welcome step, but it is part of a process towards getting to direct flights, and there will still be more security checks, permissions, and deals to be done with airlines and airports before this comes to fruition.
The last direct flight attempt in June 2009 was halted by the US Department of Homeland Security. The Kenyan Transport minister had even traveled to the US to be on an inaugural flight only for it to be canceled at the last-minute. Delta had planned four flights a week to Nairobi, with a stop in Dakar, Senegal.
The announcement could be a boost for Kenya Airways (KQ), but the initial focus which they have maintained over the years when asked about the US,  is to pursue a code-share partnership, perhaps with Delta Airlines. Under the ongoing KQ restructuring project Operation Pride at the airline, code-shares which involve selling their tickets on partner airlines gets them revenue without having to deploy aircraft.
But once partner flights start, national prestige will force KQ to step in and do the flights themselves. They have the equipment, Boeing 787's 'Dreamliners' that are perfect for direct US flights. The first Dreamliner for Kenya Airways, April 2014, flew from the Boeing factory on the West coast of the US on a non-stop a 16-hour flight to Nairobi, and expectations are to have much shorter flights from the eastern coast of the US, likely to be Washington DC or New York. After all, rival Ethiopian Airlines flies to five North American destinations, and there are ample numbers of Kenyans and US tourists and cargo in both directions to justify KQ flights. Perhaps once KQ gets back the Boeing 777-300's leased out to Turkish Air.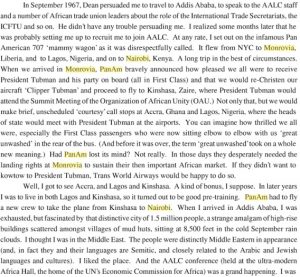 The last direct flights to the US were on defunct Pan Am, which TV anchor Jeff Koinange who briefly worked as a flight steward on Pan Am and he describes the flights in his autobiography "Through My African Eyes". That flight appears to have been New York-Dakar-Monrovia-Lagos-Nairobi with a Boeing 747.
Pan Am flights to Africa were rather interesting, as this excerpt from "Life Is an Excellent Adventure: An Irreverent Personal Odyssey", by  Jerry Funk, shows.
EDIT: In its application documents, Kenya Airways estimated that approximately 60,000 passengers will be transported within the first year of non-stop service.
Sept 8 EDIT: On September 5, 2017, The US of Department of Transportation awarded Kenya Airways PLC with a foreign air carrier permit to engage in: Scheduled and charter foreign air transportation of persons, property, and mail from any point or points behind Kenya, via any point or points in Kenya and any intermediate points, to any points or points in the United States and beyond. and The holder shall also be authorized to engage in other charter trips in foreign air transportation, subject to the terms, conditions, and limitations of the Department's regulations governing charters. 
EDIT: Jan 10, 2018: A Daily Nation newspaper story reported that Kenya Airways will start daily direct flights to New York in October. Ticket sales will start on January 11. Flights will be on KQ' Boeing 787 Dreamliner, leaving Nairobi at 10:30 p.m. to land at JFK at 6:30 a.m. and depart New York at 1:30 p.m. to arrive in Nairobi at 10:30 a.m. the following day.