Digital Kenya, by Bitange Ndemo and Tim Weiss, charts the rapid emergence of Kenya in the world of technology. Through stories and interviews with people in the sector, you learn about risk-taking and making policy from humble beginnings back in the mid-1990's when the whole country shared 32 kbps, and the then telecom Kenya Posts & Telecommunications (KPTC) monopoly declared internet services as being illegal. At the time, KPTC was connecting about 10,000 users to the phone network, and with 77,000 potential customers waiting, they envisioned a 5% tele-density in Kenya by the year 2015. The tele-density in 2015 turned out to be 88% thanks to rapid changes that came after fibre cables and the cheaper mobile phones emerged.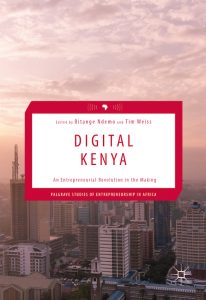 One story is a narration of how, as a peace agreement was being signed in February 2008 to end the post-election violence in Kenya, the ICT Ministry managed to secure a guarantee to enable the laying of the TEAMS fibre cable that ultimately changed the face of ICT in Kenya. This came after the ministry had stepped back from another long-discussed bureaucratic cable project – one called EASSY. This was one of the examples of government officials circumventing red tape for a good outcome. Another was the roll-out of M-Pesa which is also cited here, ahead of regulations and thanks to some individuals in government giving it their cautious blessing. Not all of them turned out well, and one case cited is of officials at the Postal Corporation sabotaging a land deal that would have led to the establishment in Nairobi of the headquarters of a multinational telecommunications organization.
There are many other stories that show issues of privatization, race, the lack of vision & finance, tech startups, the need for skills to scale, and the disconnect between local capital & the tech sector. It also shows the disconnect of ICT with both formal banking and also with the agricultural sector, two crucial links yet to be adequately bridged in Kenya.
Thanks to the Ford Foundation, the Digital Kenya book is available free of charge and a book download can be obtained from a dedicated site.