Kenya Airways (KQ) turns 40 today. It was incorporated on January 22, 1977, after the disbandment of East African Airways as a consequence of the collapse of the East African Community, and with some assets and staff of East African Airways was to be the national flag carrier of Kenya
The airline's story can summed up in three phases: First, was a typical African state airline flying unprofitable routes to far-flung destinations, and with operational and management issues.
Then the early 1990's saw a move to address the decline and a new board was formed, that was chaired by former Central Bank Governor Philip Ndegwa. It had a mandate to commercialize and privatize the airline. They hired Speedwing Consulting in February 1992 who appointed a new executive team that implemented an extensive restructuring involving fleet reduction, fare and route reviews, staff training and voluntary staff reduction.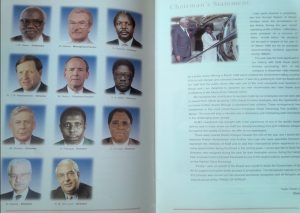 This was followed in January 1996 by the sale of 26% to KLM  which was to see KQ grow as part of a global airline partnership. Kenya Airways was converted to a public company in March 1996 and its shares were listed on the Nairobi Stock Exchange in June 1996 in an over-subscribed IPO in which thousands of Kenyans bought shares. This reduced the government shareholding to 23%, and shares were later cross-listed in Uganda and Tanzania.
The third phase was the 2000's decade when Kenya Airways embarked on a long expansion period under CEO Titus Naikuni, and there was a period where they greatly increased and modernized the fleet, and added almost a route every month, mainly to African capital cities. The expansion, however, came a time that the global and African airline space was becoming quite competitive at a time that KQ also faced new internal challenges. This was manifested in two years of successive record losses, strained network operations, and passenger relationships.
They airline turns 40 at a time when it has embarked on an extensive restructuring program called Operation Pride. KQ's new chairman is celebrated former Safaricom CEO Michael Joseph who joined the board in September 2016, and who is leading the search for a new CEO. KQ has a leaner fleet of mainly new Boeing 787 Dreamliners and Embraer 190's, staff and operations with a focus on partnerships and regaining profitability with the support of the Kenya Government.
For any airline, 40 years is a major milestone to reach, and even with the ongoing austerity moves, KQ is still celebrating the occasion with special fares for its passengers including:
40% discount across its network for flights booked from January 22 to February 5, (the 1977 date after it commenced flights) for flights taken between January 22 to December 31, 2017.
$1,977 business class fares to Hong Kong, Paris, London, and Amsterdam.
Up to 50% off companion fares when one buys a business class ticket