On Thursday this week Kenya Airways (KQ) released a statement announcing that CEO, Mbuvi Ngunze, would leave the airline in the first quarter of 2017. Mbuvi will have been with KQ for five years, 3 as COO and 2 rocky years at CEO when he had to announce consecutive record financial losses.
Mbuvi was unanimously  selected by the KQ board and appointed in June 2014, but almost as soon as he took over in December 2014, the bad news started.
– (Unexpected events) KQ's loss in the half-year. Amid the arrival of a half-dozen new Boeing 787 Dreamliners and other aircraft, and long-serving CEO Titus Naikuni stepping down, there was one more shock from the airline in the form of a half-year loss of Kshs 10.45 billion ($116 million)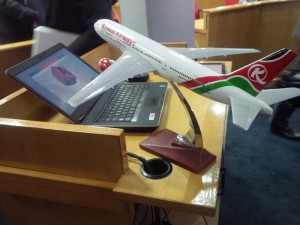 He's unfortunately taken the blame for the losses and for events that were in existence before he took over – mainly the ambitious decade-long Project Mawingu expansion that was left hanging by three almost simultaneous events in 2013 – the JKIA fire, Westgate attack in Nairobi and Ebola outbreak in West Africa – that effectively put a stop to ambitious plans to have millions of new passengers flying through Nairobi. Coupled with that was the expansion of Emirates and other Gulf carriers across Africa that the board had not foreseen – and Emirates & Qatar Airways are said to generate more revenues from Africa  routes – than South African, Ethiopian, and Kenya Airways combined)
He undertook some painful decisions at the airline that were seen as unpopular – sale of assets (large idle Boeing 777 aircraft, and the Heathrow time slot) layoffs of pilot B777 pilots and other  staff reductions – all firefighting tactics as he also tried to secure funding as losses eroded the airline's balance sheet of the airline amid ongoing probes by a senate committee into the losses at the airline and an ongoing audit of revenue loss and fraud at KQ.
Michael Joseph has been Chairman of the board for about a month, announced Mbuvi's exit with the hint that the next CEO will likely not be a Kenyan.  Mbuvi will assist in the succession process, as the new CEO is expected to continue in the current turnaround plan, who goals in the short-term are still an improvement in liquidity and the reduction of the overall debt.