A couple of banks are in the news and are trying to put back some bad news.
Family Bank (No. 14 by assets) had been mentioned adversely at  parliamentary hearing s over the manner in which they handled accounts through which money fro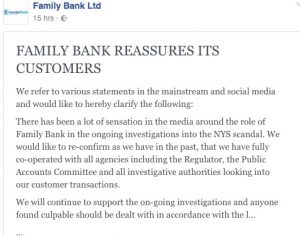 m the National Youth Service was withdrawn. Related to that have been stories that the Central Bank of Kenya has recommended prosecution of several bank staff who oversaw these accounts. The bank has put out a vague statement on Facebook responding to the allegations and highlighting its strengths and management.
Another bank, Prime Bank (No. 18 by assets) is in the news after its Chairman was reported to be the second largest shareholder of Crane Bank in Uganda which was taken over last month The Bank first put out a statement noting that it has no links, facilities or exposure with Crane Bank in Uganda.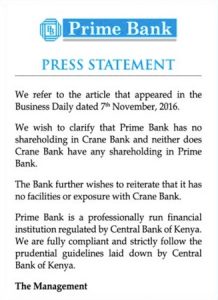 There have since been more social media messages (WhatsApp and Twitter) including one claiming that some prominent customers had withdrawn cash from the bank in panic.
The bank has now put out a second statement clarifying that the people named as large depositors are in fact not customers at their bank and that they have lodged  complaint with the Central Bank and CID, asking them to investigate the source of the rumours.
Its' difficult for banks to respond to such rumours, but they have to considering they can have an impact on liquify at the bank, even if they are not factual. The communication does not have to be online, but through reassurance to key depositors, customers and the regulators.