On October 20, the Bank of Uganda (BoU – the country's banking regulator) took over (PDF) the management of  Crane Bank and stated that:
Crane was significantly undercapitalised (and) poses a systemic risk to the stability of the financial system (and) ..  in its current form detrimental to the interests of its depositors.
BoU  appointed a statutory manager and suspended the Board of Directors of Crane Bank
Crane Bank will remain open and its operations will continue normally but under the management and control of BoU.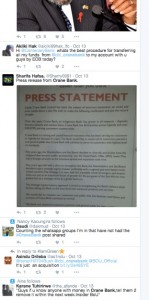 Crane Bank was started in 1995 and was said to be the fourth largest bank in Uganda. It had 46 branches in Uganda and 2 in Rwanda, where the bank regulator has said that the Crane Rwanda subsidiary licensed in 2014 is solid and will remain unaffected by the closure of the parent in Uganda.
In its 2015 supervision report, the Bank of Uganda made reference to the performance of domestic systemically important banks – Stanbic Bank, Standard Chartered bank and Crane Bank which accounted for 36% of total banking sector assets. ..there was a decline in asset quality among D-SIBS with NPL ratio rising from 3.5%  percent in December 2014 to 7.6% (and) while this reflected the general performance of the banking sector, the decline in quality among DSIBs was also on account of the performance of one bank with a significant exposure to one borrower. All the DSIBs have adequate capital to absorb losses.
Crane Bank is an award-winning indigenous bank in Uganda and was audited by KPMG. Like Chase Bank in Kenya, it was said to be a fast growing, darling of entrepreneurs, paid higher interest rates to depositors, and progressive in its outlook to entrepreneurs and business people – with lot's of referrals by word of mouth and repeat business from customers.
But one difference from Chase Bank is that while there was the bank was very inactive on social media, Crane had posted only 2 tweets this year even as there was a storm of social media posts leading to the take over last week.
The 2015 annual report of Crane notes that:
The Bank's loans & advances reached  UGX 1,010.9 Billion against UGX 836.9 Billion in 2014  
Customer Deposits grew from UGX 1,267.5 Billion in 2014 to UGX 1,336.6 Billion in 2015 indicating the growing confidence of our patrons and customers.
The bank added about 75,000 accounts during the year, pushing the total number of accounts to 499,133 as of December 2015.
The bank is controlled by Dr Sudhir Ruparelia who controls 48.67% of the voting rights in the bank.. at 31 December 2015 advances to companies controlled by directors or their families amounted to Shs. 1,003 million (2014: Shs 4,639 million). All the above loans were issued at interest rates of 16% (2014: 16%) and were all performing as at 31 December 2015 and 2014.
The aggregate amount of non performing loans and advances was Ushs 142,358 million (2014 – Ushs 19,362 million).
As at 31 December 2015, the bank had no exposures to a single borrower or group of borrowers exceeding 25% of its total capital
(importance in tax collection) The bank maintained its position among top collection agents for UMEME / NWSC and (is) in partnership with URA to do all URA PIN generation and KCCA COIN registration and all URA & KCCA payments. Bill payment is currently enabled through Internet banking.
Other news stories:
A few months ago, the bank's principal shareholder spoke with Red Pepper about the impending sale of a stake in the bank.
The East African has a story on how employee tipoff may have led the government, large and foreign depositors to withdraw huge sums from the bank as talks with suitors like Atlas Mara got more complicated.
$1 = ~UGX 3,414. 
EDIT February 2022: A court has ordered the Bank of Uganda  to compensate Sudhir Ruparelia, for sums he lost when Crane Bank was closed and also to hand over all properties that were confiscated as a result of the bank's take over to his Meera Investments. – via Stanbic Uganda.