It's been a few years since the last list. What can one still get for free in Nairobi?
3. 'Free burger': A few restaurants have this on Thursday
4. Free Internet: Most Java, Art Caffee and coffee shops now have free WiFi all day.
5. 'Free pizza': (Still around are) buy one get one free on Tuesday at Pizza Inn and buy one get one free on Friday at Debonairs.
7. Free magazines/newspapers: People Daily newspaper has been free for over a year, but you have to be early in traffic or have a spot where you can pick up a copy. There are  lso quality in several free publications like Yummy and Msafiri magazines.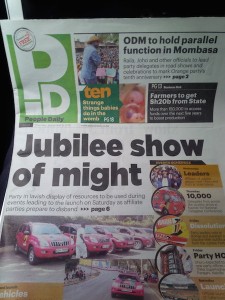 8. 'Free bank loans': (Still around are) Use your credit card carefully and pay off the full amount at the end of the month – (some cards give almost two months free).
9. Free money transfer: Equity has said that Equitel money transfer will be free forever. Airtel also has several free payment options, but which it doesn't really market well. (See how much value Airtel gives away – via Kachwanya)
11. 'Free calls': Both Airtel and Safaricom offer you free calls if you reach some threshold of spending in a day, but the messaging is  confusing. Safaricom also offers to reimburse you if a call is dropped.
12. Free investment advice: Now Twitter is the main forum
New
Free Meeting Rooms: Again, coffee shops are pleasant neutral meeting places, You can sit and wait if your guest/host is later. Also it's much better than visiting anyone's office where there are hassles of traffic, them being late, having to show your ID, register your laptop, park in inconvenient spaces etc.
Free Parking: The Hub in Karen and Garden City Mall on Thika Road have free parking. At many malls, parking is no longer free, and expect to pay Kshs 50 to Kshs 100 for two hours and it gets punitive if your park for longer than that.
Free Taxi Rides: With all the new taxi hailing apps in Nairobi, there are often free rides for new subscribers, to/from major Nairobi events and for regretting people to the services.
Now Gone
1. 'Free' books: at the Book Villa. Become a member and read as many new, best sellers, finbooks, travel non-fiction books etc. No more free books 
2. 'Free' breakfast: at Books First/ Nakumatt buy one get one free on Sunday morning no more free breakfast
6. 'Free movie meal' (hot dog, soda, popcorn) at Nu Metro on Monday with purchase of a movie ticket
10. Free classified advertising: place a classified ad in the Nairobi Star newspaper; send a text message and it runs on the next day
What other items are free in Nairobi? 
$1 = Kshs 100