Last week there was a talk at the iHub about founder stock agreements i.e. the agreements that people enter with each other as they set up companies. John Freeman, an attorney who has advised on tech startups in the US & Asia, as a venture capitalist and now as an angel investor, said that most founders allocate their shares 50/50 when starting our  or in other equitable ratios.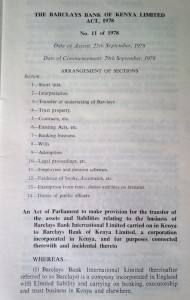 But he said that this was a wrong allocation and that company founders should instead take some time to run a "founders pie calculation" (designed by Frank Demmler) to assess the founders commitment and responsibilities at the companies to determine exactly how much each founder is entitled to get.
He also said' it's important not to have too many cofounders (never more than 5) as when they get new investment, their stakes may be diluted to become negligible. As more key people are, added, they should remain employees, but who can earn bonuses and options that vest over several years.
Founders also need to come up with term sheets, employment agreements (e.g. which note that the company owns all intellectual property developed) and shareholders agreements that have clauses such as right of first refusal. (He said if a company does not have this clause,  it is not worth investing). The clause determines who can invest in the company even if a cofounder leaves, dies or gets divorced etc. Founders who leave companies should also sign termination notices.
He said that there is an increasing trend or more convertible debt in lieu of equity investments. The documentation for theses is much faster (he does this in two weeks) and cheaper compared to equity investment, but that many  Kenyan lawyers do not understand the convertible debt  agreements. He mentioned that investor templates could be found at sites such as founders workbench,  startup percolator, cooleygo, ycombinator and orrick.
The iHub event was in partnership with m:lab East Africa and uWakili.