For a long time, motorists on the road trip to Mombasa had endless savannah and semi-arid brush-land as their only view, with few sizeable towns and centres along the highway. Many travelers would drive the long stretch between Nairobi-Mtito Andei or even up to Voi, before deigning to stop for refreshments and use of sanitation facilities at what were mostly only petrol station joints. Many of the Colonial era taverns and Inns along the Highway had fallen either into disrepair or closed completely. And a night in Voi meant accessing the adjacent Tsavo East National Park to stay in Voi Safari Lodge.
Not anymore. Recent events have led to a great change in the landscape along the Highway. Sure the great vast ranches of Konza are still largely intact but urban development has become a major feature of the highway with numerous new centres expanding and what were once junction centres now turning into overnight stop points or places of bustling with 24-hour economic activity. A number of factors have contributed to these developments and are manifested in some of the features observed.
Konza City: Previously tiny centres such as Kyumvi (Chumvi) or the Machakos turnoff have now become major truck stops. Investors have established vehicle sales centres nearby and the price of land is sky rocketing going by rough quotations one receives. Further along is Malili centre which sprung up once news of the plan publicized by the grand coalition government about a new Technological (ICT) city to be built at Konza, that was meant to take away pressure of land and space from Nairobi. The city was touted as a Kenya's Silicon Valley and out of nowhere, Malili town sprung up right next to the borders of the proposed, but yet to be built, Techno-City.
Standard Gauge Railway (SGR):  This is Kenya's single largest investment in infrastructure. As is widely known, the project replaces the old Uganda Railway (also known as the Lunatic Line) from Mombasa to Uganda. The first phase starts from Mombasa to Nairobi with advanced plans to extend it first to Naivasha and then to Kisumu and Malaba. When the SGR is done, the railway will need return cargo i.e from Western Kenya or Nairobi to Mombasa to be viable, and to get more trucks off the road.
Whatever the merits or demerits of this project is not for debate here but what must be stated are the numerous economic activities and developments that have been brought about by this project.
As the SGR is constructed, groups of the thousands of workers involved must be watered, fed, housed, clothed, transported, treated and entertained along the route. This direct and multiplier effect of the project is an indication of heavy spending. Elevated sections of the railway are a sight to behold especially for one who has not travelled the route for a long time. Major site stations chosen include Makindu, a town whose most distinct feature is the Sikh Temple. A Skygo motor cycle assembly factory is one of the new investments set up by a local born and bred entrepreneur, while new entertainment joints such as Shushan Place and Oasis have emerged.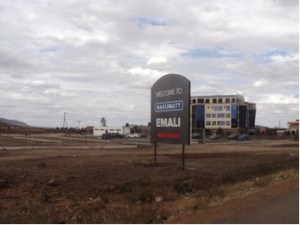 At Emali, Nakumatt, Kenya's largest Supermarket chain by sales volume, products variety and retail outlets has deigned it fit to set up shop. The petrol station eateries of Mtito Andei which marks the half way stop between Nairobi and Mombasa have changed tremendously. Weary travellers alighting from luxury coaches can now relax in massage chairs. Voi town has also enjoyed a boom in construction of residential and commercial real estate that as previously unimaginable. These are all visible signs that there is money along the highway.
Oil Pipeline: Kenya is replacing its over 40-year-old Mombasa to Nairobi oil pipeline. This project has also attracted huge groups of workers contributing to the activity along the highways in camps and sections nearby.
Concrete Poles Not to be forgotten as a major activity is the replacement of old wooden electricity poles by the Kenya Power & Lighting Company with heavier concrete ones.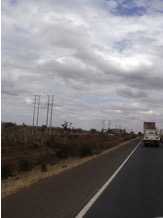 Devolution: It is indeed true that devolution has brought major developments and investments in the towns along the highway. The County Governments have spent on setting up their structures and attempting to deliver services to their people; the heavy spending has indeed yielded change, and this has attracted new players even in the tourist sector at Tsavo. One such establishment is the Zomeni Lion Hill Lodge in Voi, 6 km outside town along the road to the Tsavo East National Park Gate which is run by the knowledgeable father and son duo of Basil and Agam. The lodge features 8 rooms and 4 tented rooms with delightful views of the vast Tsavo park. It is secured from wild animals by electric fence, and is one of the new joints that offer real variety to local and international tourists. There are two air strips ay Voi, one by KWS in the park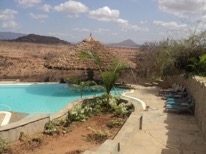 Conclusion: This article is not intended as a feel good piece but an appreciation of tremendous changes that have taken place along the highway. The writer has not spent time in many of the centres and towns to appreciate other factors such as the availability or lack of water, sanitation, waste management or security among others let alone whether much of this development is affordable, planned or sustainable.
But for long time travelers, it may be worth it skipping that flight to Mombasa and instead taking a day long drive and appreciate the changes that have taken place along the highway. Although the Mariakani Weighbridge headache is ever-present, newer routes into Mombasa or the South Coast are opening up. Both County and National Government are endeavoring to create alternatives through Kaloleni to the North Coast and Samburu to the South Coast.
Today's children will never know what the old highway looked like before, e.g why Man-Eaters was named so, or appreciate that the drive down to the Coast used to be about five hours only (it now takes about 10 hours to drive between Nairobi and Mombasa)  or why is the lane going towards Mombasa is smoother than the uneven lane climbing towards Nairobi. But who else to tell the story than their parents when caught for speeding between Mtito-Andei and Voi by the NTSA?