Yesterday Safaricom announced an interim dividend of Kshs 0.68 per share and this will add up to a payment to their 600,000+ shareholders a total of Kshs 27.5 billion. This is in addition to the Kshs 0.76 per share dividend for their year which ended in March 2016
Bob Collymore, CEO of Safaricom, said: "There is room for this one-off special dividend of Ksh27.5bn due to the cash position of the company, and the significant retained earnings of Ksh82bn. This is an additional dividend to what we expect to recommend at next year's AGM for the year ended 31st March 2017. The special interim dividend will be paid out on or prior to 1st December 2016."
But investment analyst Sunil Sanger points out the Safaricom may have erred in the timing of this announcement.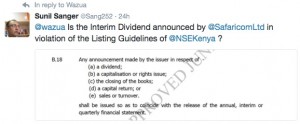 It's been a busy week at Safaricom who also announced a commitment  to promote the use of renewable energy, opened a 45th retail shop at The Hub in Karen, Nairobi (they will open 5 others in Nairobi and Rift Valley) and also dropped roaming charges for voice and data calls for 200 networks in 52 countries including Tanzania, China, Dubai, UK, USA, South Africa, Ghana, Netherlands, DRC, Germany, Italy, Nigeria, Australia, Botswana, Cameroon, Denmark, Finland, Israel, Jamaica, Japan, Mozambique, Pakistan, Singapore,  Spain, and Thailand.
In China, for example, Safaricom subscribers roaming on China Mobile will now be charged Sh50 to call back home and enjoy a low of Sh10 per minute to call within China, down from the former rate of Sh360 and Sh130 respectively. Data pricing will fall to Sh14 per MB while roaming on China Mobile and China Unicom, down from the previous rate of Sh1, 900.
$1 = Kshs 100