Kenya Airways announced their results this morning at their Pride Centre in Nairobi. The CEO – Mbuvi Ngunze , Finance director and management all  referred to the airline being stable after a turbulent stall.
They flew 4.2 million passengers (up from 4.1M the year before) and  –  with about 11,500 passengers daily and 158 tons of cargo per day, they had a 68% cabin factor, which is decent for African routes.
With fewer aircraft – 36 (compared to 43 before) they operated more frequencies to the same 54 destinations.
Turnover went up 5% to Kshs 116 billion and management says they broke even on operations in 2016 compared to an 11 billion loss last year.
They reported a gross profit of Kshs 48 billion and operating loss as at March 2016 of Kshs 4.1 billion that's 75% less than the Kshs 16.3 billion of the year before.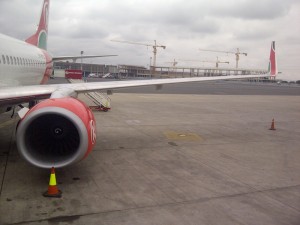 Fleet ownership costs were Kshs 29 billion –  up from the year before as the full cost of the arrival of the 787's were felt. They also had to make provision for the aircraft that they are leasing out to other airlines.  
Net finance cost was Kshs – 7 billion, up from Kshs  from 4.5 billion. They had to pay more interest on their borrowing some of which were short-term, and in 98% of which are in dollars (taken when the US dollar was Kshs 75, but which now exchanges at Kshs 101).
Foreign exchange losses were Kshs 10.8 billion up from 1 billion, and Mbuvi said that, if the Kenya shilling did not depreciate, the loss would have been Kshs 10 billion smaller. They also had to book losses from countries like South Sudan which devalued its pound from  3 to 31 to the dollar.
Fuel hedges resulted in a loss of Kshs 5 billion.
Overall loss before tax of 26 billion, and the valance sheet went down from Kshs 141 to 128 billion. For shareholders, the reserves are now Kshs -51 billion.
Q&A
Ethiopia: What is Ethiopian doing right that KQ isn't? KQ had some advantages, ET has some advantages. They operate a different network – we focus on Africa, they focus outside, and the frequencies into Addis and the frequency into Nairobi are different.
US flights: While the government is excited about category one upgrade of JKIA, Mbuvi said that their priority is code sharing with a US partner, more than doing direct flights themselves.
Currency reparation: Globally, airlines have $4 billion in non-repatriated currencies (with $400 million in Nigeria) and KQ faces challenges in Sudan, Nigeria, and Angola
Other: The last good year for tourism in Kenya was 2011, when there were 1.8 million tourist arrivals (it was 1.3 million last year) and 2017 will be an election year for Kenya. They are yet to assess Brexit impact but commodity slowdown and currency crunch has seen a slow down in the African routes they operate in.
They said the Government of Kenya and KLM, remain supportive of the company's turnaround efforts which are embodied in Operation Pride, and this comes in a year in which they were voted the leading airline in Africa and leading airline for business class.