Managers and employees are often given a chance to become part owners in the banks. This 'aligns their interests' with the institutions and gives them an added incentive to help the institutions do better as it individually rewards them for the good performance. The incentives are usually facilitated through employee share option schemes (ESOP's) which convey some tax benefits and discounted buying prices. Typically, in conventional ESOP's,  there a general pool for all employees and another for senior managers.
The method of calculation and award of these benefits is done in secrecy, usually by board committees. This is to ensure the privacy of employees and security of their families, but one outcome is that any revelation of these perks sparks a lot of interest.  In fact, you sometimes find a higher level of disclosure of compensation practices at listed banks in Uganda and Rwanda, than you do with Kenyan ones.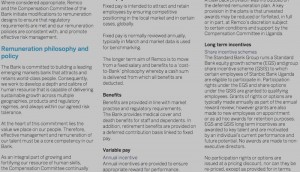 Consider these examples:
CBA: Shareholders include a ESOP who own 2.5%.
Chase Bank: Employees of the bank own  4.3% of Chase through an ESOP. Elsewhere a bonus to the former chairman was one of the deals that the auditors queried in 2015.
Cooperative Bank: Stories about shares to bank management and directors first surfaced in 2008, ahead of the IPO in which bank staff got 9% of the shares. and has been on twitter this year. The company's accounts show that the CEO owns 2% and the bank links the story to a smear by a former CEO who has an ongoing tax case with the bank.
Equity Bank: CEO owns 4%, while an employee ESOP owns about 3%.
Jamii Bora:  The CEO own 1% and is also an investor in the largest shareholder of the company.
Family Bank: In 2011, shareholders voted in an ESOP for managers and a transfer of 1 % transfer of shares of the (then-new CEO , which he purchased at a discount as part of his employment package.
Housing Finance: Has has an ESOP since 2006 that's open to  all employees: Eligible employees pay for the units by cash at a price determined by Trustees either in full or by instalments until price is paid in full. The Unit holder is not allowed to sell, transfer or otherwise dispose of Units registered in his name to another Unit holder or to any third-party whatsoever.
KCB:  When KCB CEO Joshua Oigara declared his wealth (assets of Kshs 350 million comprising land, buildings, motor vehicle, cash bank balances and shares) and salary (with allowances that totaled  Kshs 4.9 Million a month),  last year his statement added that  "..My public declaration is driven by the need for us as private sector players to initiate greater transparency. Kenya is bleeding from corruption mainly driven by secrecy in organizational operations.."
$1 – Kshs 101.