A guest post
Getting There: Kenya Airways was my choice. I could have done Ethiopian or RwandAir, but there were no connections on KQ; it was the only direct flight. There was a stopover in Kinshasa on the way back. The flight cost is $ 2,099 in business class (and approx. $1,000 in economy).
Visa: I had obtained a business visa in Nairobi before I departed. A 3 month multi-entry visa costs Kshs 11,000 and that included an extra Kshs 1,000 for same day processing. The embassy is located in Gigiri on Whispers Avenue.
On arrival: They requested to see my letter of invitation, which I hadn't printed but I now had to boot up my laptop to show them the letter. You would think this was unnecessary seeing as how I had the visa already. Also my bag was opened prior to my receiving it and they had taken some inconsequential stuff (even though I had a TSA lock on it.) I discovered this when I got to the hotel.
Getting Around: I didn't get to move around much as this was for business. This was personal, and the people were great. They're a millions of green taxis there. Locals and visitors alike use them. They must be cheap as they are used more than their "matatus."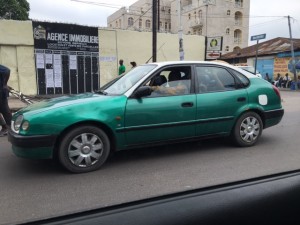 Where to Stay: I stayed at the Pefaco. It cost $130, and is right next to the airport. There is also the Radisson Blu ($250 a night), which I had booked this prior to getting guidance to switch hotels…for convenience and proximity reasons. Electricity is not reliable at all, and there were multiple outtages (about 4 – 5 a day.)
Staying In Touch: I used VOIP to make my calls. They have Airtel there though, I didn't use my cell while I was there. There's no wi-fi hotspots, but the hotel (Pefaco) had good wireless internet. There's poor internet infrastructure in general. (I was told the government shut down the Internet for a week during the elections earlier this year.)
Out & About: There are traditional african foods like "matoke," cassava, etc.,. but there is also a French influence in terms of thing like bread and pastries. There are four 4 major beers – Primus, Star, Ngok (Crocodile) and Nzoko (elephant).
The people speak French and talk a lot about politics. It's in season, whether it's on Congo-Brazzaville, DRC, or US. I could not find a local English newspaper.
Shopping & Sight-Seeing: The main sightseeing is along the river. The Congo river separates Kinshasa from Brazzaville. There is a downtown shopping area called Poto Poto. It has African clothing, and everything else. It felt like there was a lot more Chinese construction there than there is in most other African cities.
Budget: The Congo Franc is the currency used there, and it costs (equivalent of about $100) per day to get around. You can use your visa card almost exclusively. There was a Russian mafia scheme a few years ago. Visa lost millions of dollars, and then replaced all the PDU machines. Mastercard use is extremely limited, but I was able to get cash from select ATMs.
Odd Points: The Lingala language and music. The music is played everywhere, and they love it even more than we do. I was also surprised at how strong the connections are to Europe.. France, Belgium, Switzerland.
Another was that they import a lot of their food…even meat and milk. Meat is imported from Chad, and onions from Cameroon, while milk is from different countries in Europe, with powdered milk from the Netherlands.