It's hard to believe that I've been writing about Uchumi Supermarkets for as long, as I've had this blog – about ten years. The company seems to go through a cycle every few years of capital injection, expansion & new store openings, shareholder reassurance, a few years of smooth sailing, followed by diminishing stocks of products, management change (Suresh Shah, Titus Mugo, Kennedy Thairu, Masterten-Smith, Jonathan Ciano), restatement of accounts, change of auditors, restructuring of debts etc.
At the 2010 special meeting of shareholders (during a receivership period), Kenya's solicitor general (speaking for the government, which had bailed out the company) said nothing was fundamentally wrong with Uchumi when it collapsed, just bad governance.
But this time, it hopes to have put the past behind, and things are now looking up again for Uchumi. Its CEO, Julius Kipngetich, was on a TV blitz last week where he recapped the position that the supermarket is in and the way forward. Uchumi is now lean after laying off 2,300 staff, closing its unprofitable Uganda and Tanzania subsidiaries as well as 7 branches in Kenya, one of which was in a mall (Taj) that was going to be demolished for expansion of a highway. They are in the process of selling non-core assets (3 land properties), re-negotiating with suppliers to settle debts and (in exchange for some equity) resume supplies, and seeking a new strategic investor.
Some of these have now advanced recent announcements that most suppliers have agreed to convert some debt in exchange for  about Kshs 1.8 billion of equity in the company. Also the Ngong Road Hyper branch has been sold (but Uchumi plans to continue occupying it as a tenant) and just this week the Visa Oshwal Business Community, who comprise key suppliers,   agreed to resume supplying stocks, with one of them ending a lawsuit to wind up Uchumi.
Uchumi's latest restructuring is happening is at a time when supermarkets are 'apparently' booming in Kenya. Nakumatt just opened its 61st stores, Naivas and Tuskys are growing, despite the family battles they have, Choppies (of Botswana) has taken over Ukwala and Carrefour has just opened at The Hub in Karen, in upmarket Nairobi.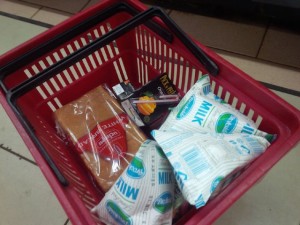 Banks like UBA are ready to support. KCB has been a long terms banker, and Jamii Bora banks is the largest shareholder (15%) of Uchumi, closely follow by the government (14%).
Uchumi stores now have almost all products back on the shelves, but with some familiar brands still missing, for now.  As the CEO, said in one interview, Uchumi aim to serve middle class consumers, who want to buy Kenyan products .
In the next three months, they hope to narrow down a strategic investor to be the anchor shareholder of Uchumi, from a pool of bidders that were invited privately.