KenolKobil had its annual shareholders meeting on May 12, at the Hilton Hotel in Nairobi. The board chairman spoke of the company's performance in the three years since they had lost Kshs 6.2 billion. They had thereafter embarked on a turnaround that involved reducing costs, divesting from non-performing territories, focusing on profitable business rather than growing their market share, paying down debt, and corporate governance moves (separating the role of  Chairman & CEO role) .
Highlights
Regional Business: 
Tanzania: The company would up their short foray in Tanzania where they were losing $2 million a year. They had a depot that was part of their venture was an expensive lease, and while fuel prices in Tanzania are set by the government, many companies sell below that price as they don't pay taxes. The directors said that Kenol was a responsible company that could not and decided to close shop.
DRC: They invested here, but did not ship product there as they were not happy. with the business climate and decided to sell out.
Burundi is doing well despite the political turmoil there.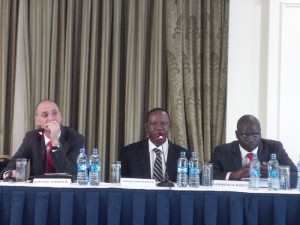 Dividends: One shareholder said the dividend was too low, but the chairman said they have a consistent policy of paying 25% of net  profit as dividend, while the Group MD (GMD) said they still had to pay down a lot of debt.  One long-term shareholder told the meeting, that it was better for the company to be conservative with dividends, rather than aggressive, like other companies, and come back in a  few years to ask shareholders to invest more money in a right issues
Property: They have decided not to put up an office building in Haile Selassie street in downtown Nairobi for now as the office property market is saturated.
Goodies: Lunch box (which Hilton guards would not allow to be eaten on site), and tote bag. Some shareholders pleaded for the company to provide them with caps and umbrellas to promote the brand.
Odd Point: One shareholder asked why the AGM had not started with  prayers. The Chairman said it would not be productive, as they would have to have prayers for Christian, Muslim, Jewish, and traditional African religions  to be fair to all shareholders present.