Coop Bank has opened to serve diaspora customers, 24-hours a day, 7-days, a week. It's oddly located at the bank's Co-op House headquarters, in downtown Nairobi, but its actually a centre meant to manage diaspora customers in faraway countries, using dedicated relationship managers.
They will serve people with queries on real estate, account opening and wealth management. They will also offer Coop Bank services to diaspora SACCO's, which Kenyans abroad used to jointly save and manage challenges. And while in Nairobi, diaspora customers also get to use executive suites at Coop branches.
Since Coop launched diaspora banking in 2010, they have become one of the significant banks in remittances, handling, they estimate $45 million a month, or about 30% of the inflows. At the launch one customer,  who lived in Washington DC for many years, asked them to open a banking centre in the US capitol. While she praised Coop for their good staff  responsiveness and service to her as a customer, she also lamented the generally low-level of services that Kenyan institutions offer to diasporans who live in countries where they are used to efficient processes, and relationship people who actually return calls to customers. Many just want to open accounts in Kenyans banks to save, and all they want is to get prompt and good service.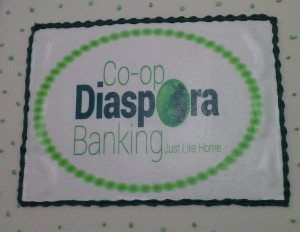 Coop has partners and agents in places like UAE, Qatar, the UK, and the USA (Dallas).  One of the partners is UAE Exchange, and their manager in charge of Africa operations spoke of the changing trend of Africans sending & spending money to one of Africans sending & saving, and also sending & investing. This is the way to emulate Asian counties whose fast growth was aided by remittances by their nationals.
Coop also partners with SACCO's (savings & credit societies) in North America and Europe such as the Kenya USA Diaspora SACCO, Kenya UK SACCO, and the Kenya Ireland SACCO.