Last week saw the launch of The Luxury Network in Nairobi, Kenya. This came after a B2B luxury seminar that featured brands that are targeting affluent Kenyans and Africans who will pay extra for quality and exclusivity.
Recent research by IPSOS estimates that there are between 5,000 and 8,000 dollar millionaires living in Kenya. These are defined as people who have made money though business, and entrepreneurship, sometimes through land and government tenders and have liquid cash that is not tied up in land or in current accounts. The country has gone from 5 malls to 51 malls (some under development) in the last decade as more shoppers turn out and the shoppers that the luxury network targets are ready to spend for the right things.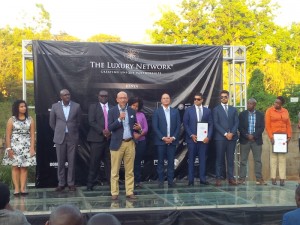 Some of the members of the network include Africab Tours (luxury meet & greet service), CJW (bespoke legal services), English Point Marina (a piece of Monaco in Mombasa), Elite Digital (who have been selling Apple products in Kenya for 30 years), Kartell,  Little Red (who sell Italian brands), Majestic Events, SHK Consulting (bespoke PR), RMA Motors (Jaguar, Land Rover franchise in Kenya), Goshen Acquisitions  (strategic land investors)  and Bombardier Aero who plan to open an office in Kenya in 2017.
The luxury network has 25 offices around  the world. In Africa, they are in South Africa, and after the launched in Kenya, they will next go to Nigeria  – which has the highest number of private jets in Africa.
By being members of the luxury network, entrepreneurs enjoy benefits such as alignment and a connection with other global luxury brands, access to pre qualified high net worth private clients, and access to seminars, event and privilege loyalty programs.