This week Yara had a lunch meeting in Nairobi to highlight their investments, plans, products and solutions, for Kenyan farmers. Yara Kenya Country Manager, James Craske, also spoke about the global fertilizer environment, including regional markets, production, challenges, and other aspects of the industry.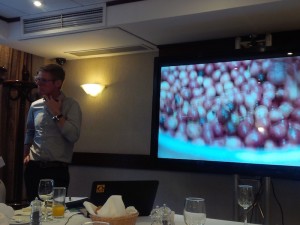 Excerpts
History: Yara, the largest nitrogen fertilizer producing company in the world  (33 million tons in 2014),  and has been shipping to Africa since 1929.  Yara East Africa has been in Kenya for 20 years, has 20 – 50% market share in most of the sectors they specialize in (e.g they call their CAN fertilizer – Yara Bela Extra). They will be doing a roadshow in the North Rift area, starting in Eldoret-Uasin Gishu area.
Farmer Focused: They are farmer focused on developing farmers and improving farm profitability. They  target to increase a farmers earnings by a factor of 4:1 after he or she  invests in their fertilizer. They have crop specific guides like for maize, coffee, tea, horticulture variants and other crops, and have trained 55 interns to work with the farmers in Kenya.
Distribution Network: They have 80 distributors and 10,000 stores in Kenya. They also sell directly to large commercial farms of more than 500 hectares. Freight is  big cost factor for farmers in Kenya.Craske said they can load a 30,000 ton vessel in Norway and ship the fertilizer to Mombasa for $30 per ton, but it costs  another $70 – $80 per ton to get the fertilizer from Mombasa to Eldoret.
Production potential: Countries that have natural gas like Tanzania and Mozambique are natural places to produce fertilizer. But local production may be a challenge as fertilizer components come from many countries e.g.  Saudi Arabia, Russia, China and processing is sometimes a dirty process.  Kenya is a 500,000 metric ton fertilizer market and Tanzania is a 200,000 one. A urea factory costs about $1 billion and it is expected that a factory will need to produce about 1 million tons per year to break-even so they will have to factor in some exports from Kenya to invest in one here. (There's a factory that is being built in Uasin Gishu, by Toyota, that may produce fertilizer blends)
Counterfeiting: This is a big concern for Yara and they carefully monitor their products distribution channels to stop contamination and counterfeiting e.g. people re-using their branded bags or people taking other subsidized government fertilizer and selling it in Yara bags – as has happened  in Tanzania. It is  estimated that 20% of Kenya government subsidized fertilizer may end up in Uganda, and in Kenya, any Yara store found selling open bags is kicked out of their program, and in Asia, every Yara bag has a tracking barcode to discourage counterfeiting.