Wednesday had M-Kopa launching a solar TV product & service in Nairobi.  The 16-inch solar, flat screen, digital TV has  26 free channels and can be paid for at a cost of Kshs 50 per day, that can be spread out over two years.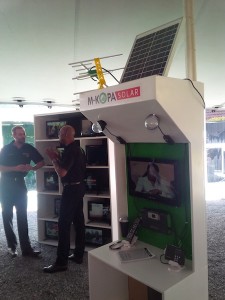 3-year old M-Kopa, which has over 300,000 customers, and targets to reach 1 million by the end of 2017, uses Safaricom's M-Pesa to spread out the cost of their solar home equipment to as little as Kshs 40 per day to light homes, and charge phones and radios, effectively extending the hours that some businesses can operate. M-Kopa CEO,  Jesse, said their goal is to be below the Kshs 50 per day that rural Kenyan homes spend on kerosene/paraffin.
The company, which is also in Uganda and Tanzania, will for now only have the TV's sold in Kenya and plans to move a few thousand units every month. Current M-Kopa customers, with good repayment records, will get calls from the sales team, and there will be excellent after sales service for the TV devices that are ready out-of-the-box. The TV is designed to provide homes with 4 hours minimum of TV  viewing per day even if it's rainy or cloudy.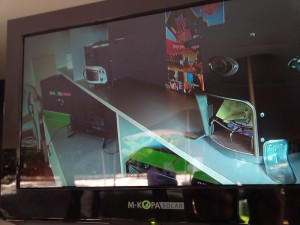 The TV components that M-Kopa uses are sourced in China, while the solar panels are now manufactured in Naivasha, Kenya, as the opportunity to do such manufacturing improved after the government removed an import tax on energy components.
The TV is available in two ways: (i) As a "M-KOPA + TV" upgrade pack for existing M-KOPA customers or (ii) as a larger "M-KOPA 400" 20W home solar system with TV for new customers  Both products made affordable by convenient daily payment plans over M-pesa. 
$1 = Kshs 102