Last weekend, the Mindspeak series had National Treasury Cabinet Secretary, Henry Rotich.
There was a lot of expectation that he was there to talk about Eurobond but that wasn't the case and it was merely one subject he touched on in his talks about his role and the  functions in the government, and economic outlook for Kenya.
In his intro, host Aly-Khan Satchu said that the Kenya Eurobond was perfectly timed and a stunning issue at 6.875%, the largest SSA bond in recent times. It has helped the shilling outperform many currencies – only losing 11% against the dollar, compared to the Rand (-39%), Angola (-50%) and Kwacha (-73). KCB CEO Joshua Oigara noted that people outside Kenya are more confident than people within, and people who are doing great things, should know that a certain percentage will not agree with you.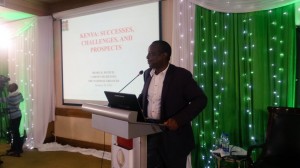 Excerpts of the CS presentation, remarks, and Q&A session 
Kenya Outlook China's slowdown to focus on domestic and US exit from the international market will have an impact on the world, but Kenya with a diversified economy and strong private sector should be resilient
Challenges include reducing poverty, and inequality and creating employment. The economy needs to grow faster than 5-6% as 6% will only create 600,000 jobs – so needs 10% growth to create 1 million jobs per year.
Agriculture has not been modernized for a long time. these services sector (ICT, financial). manufacturing has been flat for two decades (10% of GDP) – and this needs to be 20%. That's  why they are support leather & textile, and are working to lower energy costs and improve the business environment through special economic zones.
The Job 
He is guided in his job by three measures of economic health – interest rates, exchange rates and inflation (stable, single digits).
The ministry has undertaken fiscal reforms, and the budget is more policy-based. They pay suppliers with Gpay and IFMIS, new procurement laws are in place, the auditor general reviews expenditure, and there are quarterly reports on the website and which are submitted to parliament.
Eurobond/Debts:
Kenya still has low and sustainable external debt levels. It did not get HIPC debt relief, unlike other countries and has paid debts on time – this was a big selling point when marketing the Eurobond.
The current account deficit has gone from 10% to 7% of GDP mainly because of lower oil prices, less thermal energy generation and a  slowdown of consumer imports  (good, as the focus should be  on investments, not consumption)
You cannot be a growing economy if you can't borrow from outside – you need  safeguards.  The bond was oversubscribed and when it traded favourably, they also did a tap sale that picked another $750 million. Aly-Khan said the government actually got $815 million and only has to pay back $750 million.
Explanations and documentation about the bonds are on the treasury website.
Euro bond proceeds received have been spent on 2013-15 budget programs like infrastructure projects. The bond was not specific, and not earmarked to any project. it was for budgetary support of programs, some initiated by the previous government, such as roads and electrification
We will remain as participants in the international market and soon intend to borrow more
Savings
Need to raise Kenyan's savings from 12% to at least 30% of GDP – perhaps through more innovative finance products (from insurers  & capital markets) to save.
M-Akiba bond launch has been delayed. It was meant to come out last October, but interest rates were still high and volatile.
They have also sorted issues with Safaricom and CDSC  – all that's left is to set the price and launch.
Kenyans will be able to buy government bonds of amounts of Kshs 3,000 (~$29) by phone.
Taxes:
Wants to raise the tax-to-GDP ratio to 25%, but people say there are too many taxes already
Wants to keep government wages below 35% of revenue.
New VAT and excise bills have come, but we are yet to modernise income tax. That should happen by the next budget with a view to expanding the tax base (very few people pay tax now).
They will also support county governments to implement and collect taxes assigned to them like property tax.
Local Banks
Wants to reduce bank interest rate spreads from 17% to 8% – we've been asking banks what is this 8%? Can they share infrastructure, reduce the cost of perfecting securities etc.?
There are too many banks that are not offering competition;  5 banks control 70-80% – the other 30 are competing for 30% market share. Parliament stalled a move to increase bank capital, but his aim is for 15-20 banks which actually compete.
 Oil & Petrol
It's good that Kenya did not discover oil early – and was thus able to diversify and develop agriculture, and services, and it's only now that oil & minerals are being discovered.
The petrol pump price would be lower if the exchange rate was 88-90. Now the rate at 102 has eaten a lot of  savings.
When oil prices fall, we should  actually keep the petrol price the same and transfer the savings to a fund
Privatization
There has been no government privatization since Safaricom — the current law is a hindrance rather than a facilitator as there are too many lengthy requirements and safeguards. We may have to amend the law if you want to see more privatization transactions and need to trust the government by not requiring too many consultations.
There's a pipeline of projects to sell,  starting with sugar companies, then a few banks (the government owns 4 banks), hotels stakes etc.