A guest post by @queenofsheeba7
I've absolutely and utterly been in love with Djibouti since I was a kid. Granted, it was the name the intrigued me; ever since I was 8 years old. Even as I received the stamp on my passport, I muffled a giggle to myself about the name – nope I still haven't grown up! Djibouti is a forgotten gem of the Horn, somehow you just never know what you're going to get when you're in Djibouti…that's part of the charm. Stick around this engaging city long enough and you might fall prey to its unexpected charms.
Getting there: It's fairly easy to get to Djibouti City from Nairobi. However, Kenya Airways and Ethiopian Airlines have recently been fully booked due to the number of humanitarians running to respond to the Yemen crisis (Djibouti is among the countries in the Horn receiving a large number of individuals fleeing Yemen). Flights are between $300-$500. You will be shocked when you arrive just how TINY the Djibouti airport is and what an utter joke it is. You would think because its a joint civilian/military-used airport that it'd be more impressive. Speaking of military, don't be surprised with all the foreign military personnel prancing around exuding testosterone.
Visas: Kenyans do require a visa into Djibouti, no surprise there. It's $90 and you are able to receive it on arrival, as I have often done so. Inbound immigration and visa on arrival facilities are slightly chaotic though not too bad.
Getting Around: The easiest and perhaps cheapest way to get around is to hire a car during your stay. Or you could walk around as the city is pretty tiny, just that the heat may get the best of you.
Djibouti's national language is French, so best to carry your French phrase book. I got by with a mix of French and Somali. If you speak Arabic that is an added bonus. It's no use speaking in English as they have embraced the French attitude of pretending they don't speak a word of English! It's also interesting noticing how Somalis have a collective identity crisis. As they were colonized by the French, they prefer to speak French over Somali – even when other Somalis (from the diaspora or neighboring countries) try to talk to them. It's just odd as Somalis are known for being proud of their culture and language.
Communications: You can purchase a local sim-card for about $10. You will be required to carry your passport to register for the sim-card. If you are like me and are itching to check your social media feeds/emails as soon as you land, you will sadly be waiting forever to get your hit. Most cafes & hotels do have Wi-Fi but it's often a hit and miss. Electricity is pretty reliable, didn't experience any power cuts. Word of advice, carry a converter!
Where to Stay: As in every city, it really depends on how much you are willing to part with. They have the Sheraton, Hilton and Kempinski that I have checked out and they are all reasonable prices – $100-$150 per night. Again, do not be surprised if there are foreign soldiers staying in your hotel. At the Kempinski, it was the norm seeing soldiers decked out in their national uniform smiling and talking to you while you wait for your breakfast.
Budget: It's not as pricey as people say but still not cheap – $25-$40 per day (excluding car rental). Thanks to foreign military bases, everything is horrendously expensive for what you get. Some good news, is it's easy to find ATM's that dispense U.S dollars. Most places you can get away with paying in dollars. The catch with Djiboutian francs (and NO ONE tells you about it) is once you change from dollars to Djiboutian francs you cannot exchange them back. You are forced to use all your francs before you depart as they are completely useless outside Djibouti.
Eating Out: The food is similar to Somalia/Somaliland/Puntland, because they are Somalis after all! However, you will find European/Parisian influenced cafes and restaurants. "The Melting Pot" is my go to place for dinner. Street food and supermarkets allow you to eat for $2 – $4 per meal, while cheap restaurants are $3-$6 per meal. The French hangover in Djibouti means that delicious pastries, croissants, pain au chocolate are in abundance here.
Alcohol is available in the country, but only purchasable from hotels/bars. Most people chew miraa from 4 p.m. and sit around cafes chewing; recently their chats (well at least the ones I've tumbled into) have predominantly focused on the Yemen crisis. But one thing I've noticed is Djiboutian's are very diplomatic, and they rarely speak ill about any country. Think of them as Switzerland in the Horn.
Shopping & Sight-Seeing: As Djibouti was colonized by the French, it still holds the French feeling throughout the whole city. If you forget yourself for a moment you could feel you're wandering down a Parisian street as you chew on your baguette (cheap and delicious by the way!). The architecture flips between European and African as does the cuisine so it truly holds an ambience unlike anything you'll have experienced before.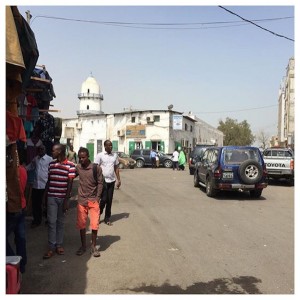 The African market/quarter is just south of the European quarter in the city center. This is an intense lively/chaotic with a market in full swing. Like most Arab countries, markets open from sunset, so get ready to do all shopping late in the evening.
Every Thursday, the ladies go to the market from 9 p.m. & buy themselves new diraacs (Somali attire) to wear the following week. So if you really want to experience the market in full swing, go on a Thursday night. It reminds me of Mombasa in the sense that it's very safe to walk around late at night in the bustling markets. (Perhaps it has to do with the presence of foreign military in the city)
Biggest surprise of the country: Nearly EVERYTHING in Djibouti is imported. This is great because you will find all your French foods/cosmetics in the local supermarkets. But the fact they don't even grow anything is odd, I mean the vegetables are all imported from Ethiopia! Also, Djibouti works 6 days a week. That's to make up for the short working hours they have (9 a.m.- 2 p.m.) due to the heat. When I was last there in September it was 38 degrees and they kept assuring me that this was cool for Djibouti. The Djiboutian Permanent Secretary for the  Ministry of Justice even bragged that Djibouti had the highest temperature ever recorded.