This week saw satellite TV provide Multichoice Kenya increase the price of their DSTV satellite TV subscription service, with the top (premium) package now going to cost Ksh 9,400 (~$92) per month from October – an increase of almost 15%. This has since been debated on several fronts, one of which was a cost comparison with South Africa pricing where the company is based.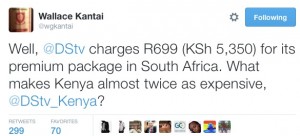 Another was done  in terms of what paying for TV means compared to other real life costs like paying for housemaids.
In an interview on the price change, Multichoice Africa CEO Tim Jacobs cited several factors behind the increase including Kenya's shilling which has depreciated 15% this year against the US dollar in which they buy most of their programming such as the (extremely popular) English Premier League (EPL) who's rights were hiked 70% in the new deal signed earlier this year.
The price increase also sparked a local consumer lobby to pursue a boycott and petition and in past years, a similar dstv cost increase was debated in Kenya's parliament. Back in April 2010, one MP asked if Kenya's national broadcaster – KBC, who own 40% of Multichoice Kenya would consider waiving their profit so that more Kenyans could afford to watch the 2010 World Cup.

This may be the most significant sports television moment in Kenya since  GTV went bust after a short period of outspending dstv in the race to televise top sports events.
The new dstv cost that has a figure close to five digits per month seems to be a tipping point with many subscribers now saying that the cost is simply too much and that they plan to downgrade their subscription to a cheaper one or switch to another company.
Rival, Zuku (of the Wananchi Group) has since responded to the dstv increase with an enhancement of their channel package and offering their viewers more programming, at no extra cost, by adding as many as 19 new channels such as Nat Geo Gold, Fox Sports 2, BET, Discovery Science, IConcerts, TLC, Fox News, FX , Bloomberg, E!, Sky News and Euronews.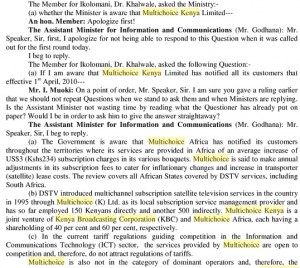 It's not clear how many of the 100,000-160,000 dstv subscribers in Kenya are on the premium package, but it's clear that many of those that do, subscribe to it for the sports packages (which are exclusive to the premium tier), and also that many of the same premium dstv subscribers do enjoy watching their favorite sports teams and players with their friends and fellow fans in sports pubs, and not at home where they are paying for the sports (and face many distractions!).