A guest post By @Varyanne
Getting There : I went to Banjul through Lagos, having used Kenya Airways (KQ) to get to Lagos for approx. $900 that was paid by the host organization. I then used Arik Air from Lagos to Banjul which was a three hour flight, and the ticket cost approx. $700, also paid by the host organization.
On Arrival: First, having come from Nairobi, which was cold at the time, walking out of the plane (in Lagos) felt like stepping into a sauna that was pre-heated for too long. I heard there was air conditioning but they might as well have spent the money on some kind of indoor sprinkler system.
I met two other Kenyans who were going to the Africa Commission on Human Rights Conference so I stuck around with them. We got help from one of the immigration officers who collected the passports from all transiting passengers. He didn't give a reason, but he was the immigration officer so we were in safe hands, we hoped. The officer walked us through what seemed like a maze without telling us where we were going, but he was very friendly so it didn't matter, and we walked with him through many security check points till we ended up in an office with a big industrial fan that seemed to be blowing more hot air than fanning.
Since our flight from Lagos to Banjul was eight hours away, we went to find 'VIP' lounges where we could shower and enjoy proper air conditioning, and Wi-Fi of course. We left the officer filling in our passport details in some kind of register, with the understanding that we were to go back to the office 3 hours before the flight to Banjul. We paid $40 to get into one lounge which offered a plate of food, good Wi-Fi, showers, escape from the sauna and as many drinks as we wanted, soft or otherwise. The immigration officer made the trip easy for us, we didn't have to pay for anything in Lagos.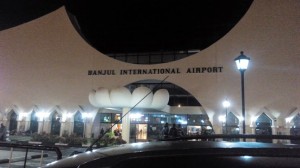 We finally got to Banjul at 2 a.m. on 22nd April having left Nairobi on the 21st at 9a.m. At Banjul airport, we had to pay $25 for entry clearance, but residents in the ECOWAS region did not have to pay. Curiously, travelers in our group including Germans, Singaporean, and Americans did not have to pay either.
Getting Around: There are yellow and green taxis (both saloon cars) which are used for public transportation in Gambia. The yellow taxis are more like the public buses or 'matatus' in Kenya, while the green taxis are the…cabs, which are costlier. Generally the yellow taxis charge 8 Dalasi (20 Kes) for short distances, while the green cabs charged me 150 Dalasi (350 Kes / ~3.50) to go from the venue of the conference to the hotel where I was staying and back to the conference venue – about 15km total.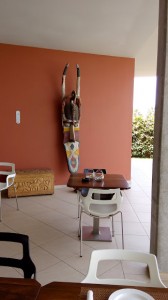 I saw a group of young people walking leisurely at 11pm on my way back to the hotel, and I imagine it is safe to walk in Banjul than it is to walk in Nairobi.
The official language in Gambia is Wolof, which replaced English in 2014 when President Yahya Jammeh declared English a colonial relic. Most people I met spoke English so communication wasn't difficult.
I used Gambian Dalasi while there and spent on average 800 Dalasi daily ($20) on food and transportation.
Staying In Touch: While there, I did not make any calls from my phone. I relied on Wi-Fi at the hotel and at the conference venue to send messages and to make calls (on whatsapp). I was only there for three days so I didn't see the need to get a SIM card, and the most popular telco in Gambia is Airtel.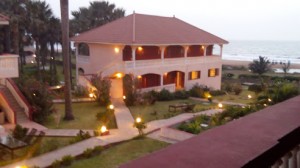 Where to Stay: I stayed at Lemon Creek hotel and the other Kenyans stayed at Kairaba Beach hotel. From the two, it seemed like it costs between $100 to $300 to stay in a slightly above 3-star and slightly below 4-star hotel. Both hotels were right by the beach, and we had no complaints.
There was no power outage during my stay.
Eating Out: Since I didn't leave the hotel or the conference venue, I didn't get to find out what the local dishes were. I did however eat more tomato soup than I have in my entire life, on this trip.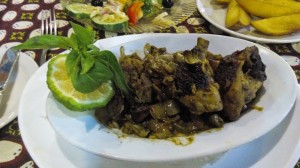 Odd Points: The policemen (I didn't see any policewomen) are extremely friendly. At any stop, the policemen would have a quick minute of chitchat with whoever the driver was. They weren't as stern looking or as up-to-no-good looking as the kind of policemen I'm used to seeing.