Last Friday saw an extraordinary press event in Nairobi. Stephen Jennings, co-founder of Renaissance Group, called a press conference along with the new Chairman of Tatu City, Pius Ngugi, and the acting CEO Anthony Njoroge.
Jennings said that while he and his foreign investor partners have contributed over $100 million that so far has gone into, long-delayed, Tatu City since launch , the local shareholders, mainly Vimal Shah and Nahashon Nyagah, have not put a single shilling into the eight year old project, and have instead worked to frustrate the project through direct and indirect court cases, the latest of which came with a move to freeze the bank  accounts of the ongoing project – and which will stop their payments to staff, contractors and for taxes due. He challenged the duo to pay the bills for the project, now that they have frozen the accounts.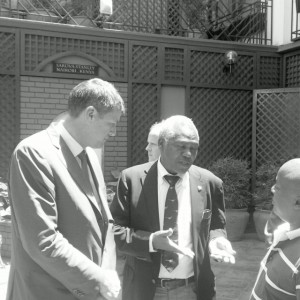 He said they are not serious business partners, have no shareholding or directorship and have been disruptive for unclear reasons.  Jennings said that Shah and Nyagah have a personal business dispute in Mauritius that has carried over into Kenya resulting in them trying to extort Tatu City.
Jennings regretted that there have been allegations with racist undertones that he is a Russian and that Russian money is forcing out local shareholders – noting that he's not Russian and there is no Russian money in Tatu City. He said that through Renaissance, they were among the first to the 'Africa Rising' narrative ten years ago and have published over 3,000 research reports and a book to back that.
He said $100 million has been put into what can easily be a $1 billion project that will create thousands of jobs and house 60-80,000 people. Already 50% of residential properties are sold, along with 80% of commercial and industrial ones and infrastructure is still being put in place.
He said the signals are bad for other potential foreign investors, if such a serious project, could be sabotaged by local minority partners. Tatu which was their first City Project has now fallen behind other African ones.