Kamal Budhabhatti, the CEO of  Craft Silicon was the guest at Mobile Monday this evening and spoke about his company and it's platform – Elma. Craft Silicon build mobile communications tools that talk to core banking systems. They are a  financial software company with a view that anywhere that there is a financial exchange (money changing hands), their software can be the enabler and get a piece of the  exchange.
Elma is used in 45 countries, is in  4 languages (English French Spanish Arabic)  and has 250 customers, including  21 banks in Kenya (I&M, Imperial, NIC, Family, Imperial, Jamii Bora Faulu, Rafiki etc.) who use the white labeled Elma platform. They also do payments for Uchumi, Nakumatt and the Kenya Revenue Authority (all mobile payments)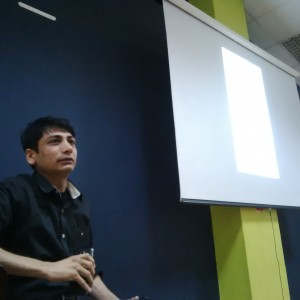 Kamal said Craft Silicon has the  second highest number of transactions after M-Pesa, (with Kshs 12 billion has exchanging hands so far in 2014) and have 6 – 7 million active customers on the platform which also supports people without bank accounts.
Some key features in Elma include:
Enabling standing orders – transactions that happen every single month  such as loan repayments
Enabling joint accounts: Kamal said they are the first company in the world to enable joint accounts in a mobile banking environment; In a typical scenario, one person would initiate a transaction, and the other person would get a message for them to approve or reject the transaction before it's processed.  This works for married couple, company directors, or even parents & kids (parent approve transaction initiated by kids who may not be old enough to have bank accounts
Quick transfers: Transactions between customers of the 21 banks connected can be effected without going through a mobile company. Also Elma users can send money to each other's accounts regardless of where they bank.
Elma customers can chat with their contacts who are also online on Elma (chat on Elma, not whatsapp)
Notifications e.g. A essage that  a cheque has come for clearing in your bank
Mobile cheque deposit – takes a take picture of your cheque on phone, and it goes to the clearing house
NFC enabled.
Opportunities for the Developers/ the Community 
Any bank can have their own corporate chats – and any developer can go sell the white label Elma chat product to a bank and keep all the revenue.
A developer who build an app using Elma's API, can get to 6 – 7 million customers regardless of their telco or their bank or phone type. E.g. field data collection is a 3rd party app.
Also with Elma, there's no need to write individual apps for different platforms such as for Windows, Apple, Android devices.
If you write on crafts silicon API, it is free to use even if you're charging other people or banks, and the developers get to keep 100% of the revenue.
To download and use Elma, you don't need a bank account to try out – all one has to do is download it, and top it up once using M-Pesa.