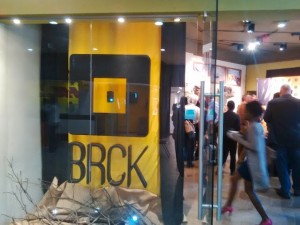 This week saw the formal launch of the BRCK with the first batch of 800 devices to be shipped to buyers in 45 countries from July 17. It also saw a funding announcement of $1.2 million by Invested Development towards the  production of the BRCK.
The BRCK is now able to provide affordable, reliable, and seamless internet and power in different, changing, or challenging working conditions such as connectivity at the 2014 Rhino Charge with the ability to provide stable internet and charge other devices and share internet with them for up to 8 hours. 
@whiteafrican traced the two year journey of the BRCK in this blog post as a solution that addresses many challenges of internet and electrical power around the world – through  a putting together a team supported by Ushahidi, gauging the interest via a Kickstarter initiative that raised $175,000 and fine-tuning the design and field testing the BRCK in conditions such as on a very tough journey chasing the Turkana Eclipse in November 2013.
BRCK devices can be ordered online at a cost of $199, but the final price will depend on the global delivery method chosen. From the web site, one can also manage their BRCK and do tasks like top-up credit, change Wi-Fi settings, and enter country APN's (if they don't pull automatically).