Getting There: There are direct flights from Nairobi to Abu Dhabi on both Kenya Airways and Etihad that cost $600-700. There's also Qatar Air with a stop-over in Doha and   Emirates Air to Dubai, but which ends with a bus ride to Abu Dhabi City (it's about a 150KM drive, and rather too short for a jet flight).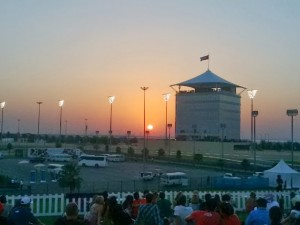 Sunset at the Yas Marina F1 track
Prior to departure, your airline would usually have arranged for a visa in Nairobi which is emailed ahead of the trip. The costs of the visa may vary depending on who's doing your booking, and it can sometimes be free if you pay for a full holiday package. Mine cost $82 and  included (a surprise) medical insurance that covered the trip.
On arrival. Clearance from the airport would have been quite fast, but it took about 1.5 hours as most people had to have an eye scan (picture) taken first and the queue was very long. Many tourists were arriving for the Abu Dhabi Grand Prix) and there were long queues for the scan, and for a rubber stamp after from a very tired official who was taking many cigarette breaks.
Getting Around: One company operates all the taxis you see around Abu Dhabi. Their website advises passengers of their rights such to see driver's ID, have the electronic trip meter running, have the air conditioner on in the car, and they can refuse to  share the taxis with other passengers – sometimes there's a shortage of cars at busy times, and the in-car computer advises taxi drivers to go to certain points where there are many people waiting for rides.
The computer also cautions taxi drivers if they exceed the speed limit. The city is a marvel of wide highways, with fast moving traffic, and a level of orderliness that will be shocking to Kenyans. Traffic lights are strictly observed and it's rare to find a traffic jam in the city.
The taxi journey from the airport to the hotel was about 50 Dirhams (AED) while a trip to a mall or office will be about 20 Dirhams. If staying longer than a week, one should learn to use the city bus system. With the heat and large spread of the city, walking long distances is not feasible.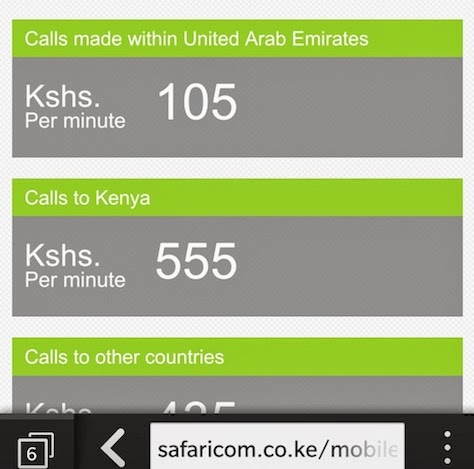 Roaming Rates
Staying in Touch: Roaming rates are atrocious so get a local SIM card such as from Qtel or Du. This can be obtained at the airport in the case of Du and a line costa AED 100 (about Kshs 2,500) for a combination of call minutes and data that can also be topped up. Also, Wi-Fi is standard at many hotels as there are a lot of intentional business visitors.
Where to Stay: There are many international hotel brands in Abu Dhabi such as Crowne Plaza, Holiday Inn, Rotanna, Ritz Carlton, Westin, Intercontinental, Hyatt, Sofitel, Fairmont, and Radisson. Some of these are located at Yas Island which overlooks the formula one track that has a race in November each year.
The National  newspaper was available in the hotel lobby for all guests free every day, and most hotels have discrete bars on the top floors serve alcohol to guests. Standard rooms with bed & breakfast go for about $100-250, and this comes with the standard international breakfast buffet, along with a touch of local foods like porridge, humus, sticky rice, seaweed soup etc.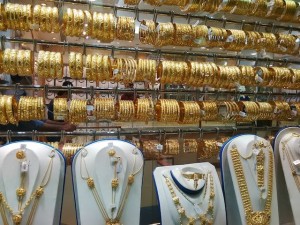 Gold Souk
Shopping & Sight-Seeing: Abu Dhabi is considered one of the more expensive cities for visitors and it will cost an equivalent of about $50-100 per day for 2 to 3 taxi rides and meals around the city. (Excluding hotel costs). 
Credit cards are widely accepted in most places, except in taxis which only take cash in local currency. The UAE Dirham can be exchanged into about a dozen other currencies (Singapore, India, Euro) and the  dollars (fixed at about $1 = 3.6 AED) at forex bureaus in malls and the airport. 
There are a few large shopping malls (Marina mall, Abu Dhabi mall) and Souks (markets) like the gold souk that is located in the Madinat Zayed shopping centre. For transit flyers (using Abu Dhabi airport), the duty free section there is rather tiny, and pricey,  compared to the selection at Dubai airport. But if you fly in with the Eihad, the national carrier, showing your boarding pass around town may entitle you to discounts at some hotels, restaurants, car rental, and recreation sites.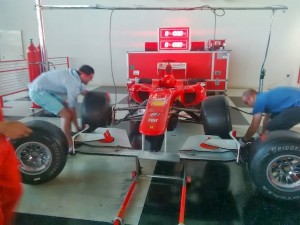 Practice your pit stops at Ferrari World
Sights to see include the  Sheikh Zayed Grand Mosque, and lot's of unique architectural towers. Others popular with tourists include the Corniche which is a 6 KM long  park where you can cycle, jog, even swim in the heat, and another is Yas Water World. But one of the most unique sites here is Ferrari World Abu Dhabi on Yas Island where adults and kids can can spend hours on a variety of motor stuff – roller coasters, virtual reality tours of the Ferrari factory, view the history of Ferrari racing, race karts, eat, shop for merchandise, and still not cover the entire complex. 
With more time, you can do other stuff like take a desert drive, boat ride (from Yas Marina), or go to other cities like Al Ain and Dubai which is about 1.5 hours max away on a 'real' super highway. 
Odd Points: Abu Dhabi is a Muslim country, but one that's quite moderate in terms of what's forbidden. Still there are signs cautioning visitors to dress modestly, and not to engage in public displays of affection, or consume alcohol in public.
Also the taxi drivers who are an international mix from many countries like India, Pakistan, Philippines, Algeria etc. are the people you are most likely to have a long conversation with during a brief stay. You encounter foreigners at almost all service points – with hotels, shops, malls, restaurants all staffed by a similar mix of foreigners, that you will wonder where the local Abu Dhabi residents are!