The March 2013 elections are now officially done, with the final election petitions being dispensed with this month. This election was said to be one of the most expensive  with  the voting process costing alone costing taxpayers $286 million. For the candidates and political parties, they had their own spending through helicopters, and vehicles convoys,  crisscrossing the  country every day, endless political rallies, and (for some) television placement and full-page newspaper advertisements several times a week – though media company Scangroup attributed a 9% drop in it's 1H 2013 revenue to clients putting  off advertising spend before and after the elections.
The parties are now accounting for their year to June 2013 with published accounts as part of their compliance with the law and to ensure they are eligible to get funding from the taxpayer through the Political Parties Fund. How did the main parties do, compared to the last political finance review in 2010? (Kshs 87=$1)
Jubilee Coalition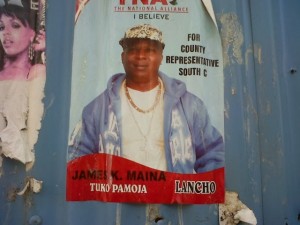 A county assembly candidate inspired by Sonko?
The National Alliance – (TNA) party of President Uhuru Kenyatta received 59M( million) from members and Kshs. 20M from party officials. It made 114M from election fees, and but got 151M ($1.73M) from well-wishers, but since it was not in existence a year ago, did not receive any money from the political parties fund. Its total income was Kshs 345M ($4 million) and it spent 364M including 279M on operations and 60M on staff.
United Republican Party: The URP) party of Deputy President William Ruto got all it's Kshs 76M income from members, and spent 11M on operating expenses, 19M on an 'alternative voting system', 10M on a campaign secretariat, 8M each on campaign materials and meetings, 3.8M on county election committees, and 3M on ballot papers, among other expenses.
CORD Coalition
Orange Democratic Movement: Raila Odinga's ODM has Kshs 244 million ($2.8M) of income mainly from 149M in election nomination fees, and 73M ($0.84M) from the political parties fund. It reports spending Kshs 129M ($1.5M) on campaigns, 54M on regional conferences, 39M on administrative expenses, and 14M on branch coordination among other expenses.
Wiper Democratic Movement-Kenya 
Forum For Restoration of Democracy-Kenya: FORD Kenya's 19.6M income was largely from members of 17.4 and the party spent 11.2M on campaigns, 7.4M on admin expenses and 2.1M on recruitment
Amani Coalition
United Democratic Forum Party: UDF of Musalia Mudavadi who was a distant third in the presidential election, got 8M from the PPF towards a total income of 14M and spent 3M on campaigns, 2M on delegates, and what seems like a low figure (considering the party's campaign  visibility)  of 1M each on travel and on advertisements.
Others
Others that have complied so far include Narc Kenya, of Presidential Candidate Martha Karua (25.1M income, spent 14.4M on campaigns),  Alliance Party (the Bus) which made 6.4M from elections fees, but spent 0.93M on campaigns, and the Democratic Party of Kenya (8.7M from PPF, spent 7.3M on campaigns). 
The parties all show signs of ballooning funding that it fully expensed during the campaigns, with most having virtually empty bank accounts at the end of the reporting period. UDF is even owed 12M from nomination fees, and life membership fees (MP's who pocketed, but didn't pay for nomination fees).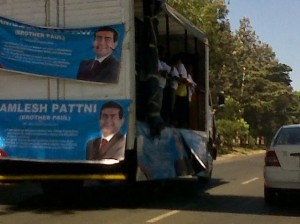 Pattni did not win a seat
Also, some figures are rather low, like UDF's the results capture figures that don't assume leakage/theft/diversion of campaign funds, a common and unavoidable problem parties face, given how much of the campaign involves officials handing out small money bills to thousands of voters at venues. This practice is illegal but has rarely been punished until last week when Ford-K's Moses Wetangula was stripped of his senate seat by a Court following an election petition.